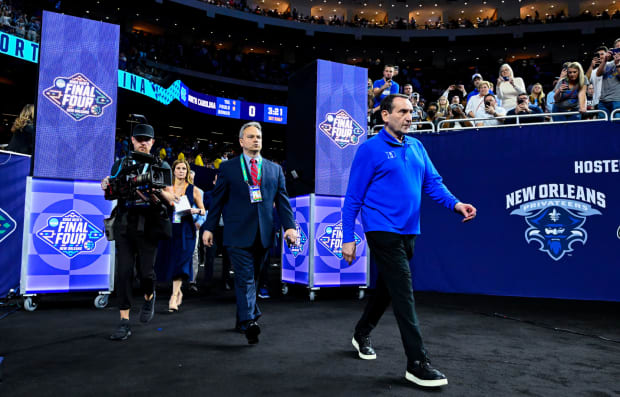 On Tuesday morning, Duke's official Twitter account posted a video recapping assistant coach Jai Lucas' first day in Durham.
It didn't take sports fans very long to notice that Mike Krzyzewski is still getting some work done inside Duke's facility.
Coach K recently received a parting gift from Duke's basketball team – spoiler alert: it was a puppy. Even though Krzyzewski can probably show up on Duke's campus whenever he wants, it sounds like some people are just ready to move on from the Coach K era.
"Oh wow Coach K is still there? Never saw that coming," Big Cat of Barstool Sports sarcastically wrote on Twitter.
"Lol everybody thought K was gone forever," a college basketball fan tweeted. "Nope, still at the office."
"Nice to see Coach K has fully let go of the program," one fan jokingly said.
Despite what fans may think, Duke's basketball program will be led by Jon Scheyer moving forward.
Scheyer will have plenty of chances to prove that he's a worthy successor to Coach K.