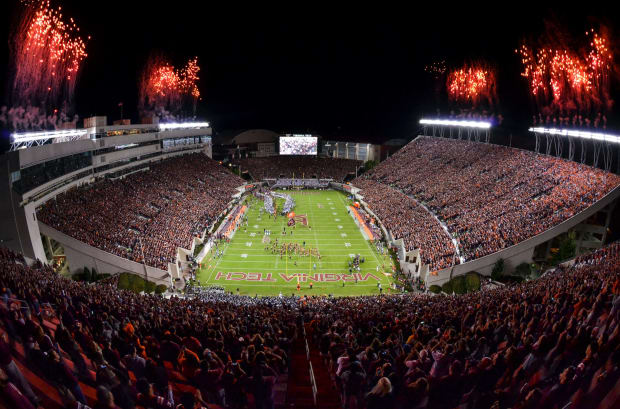 ECU did not make its trip to Blacksburg to face Virginia Tech this fall, with Hurricane Florence hitting North Carolina ahead of the game. The canceled trip has fractured the relationship between the two schools, and a long-standing series in jeopardy.
The two teams have played most years since 2007, and 21 of the 22 games in the series have come since 1987. It is a game that the two fan bases have come to expect.
The two athletic departments remain at odds, even with an overhaul in leadership at East Carolina, and Virginia Tech has announced that it has pulled out of the road games in the series through 2025.
Virginia Tech director of athletics Whit Babcock announced on Saturday that the Hokies will host a new opponent on a yet-to-be-determined date in 2019 at Lane Stadium/Worsham Field in Blacksburg. This game will replace a previously scheduled road game at East Carolina on Sept. 21, 2019. Babcock also indicated that Virginia Tech will opt out of future games at East Carolina scheduled for the 2023 and 2025 seasons.
The games at Lane Stadium remain scheduled for now, but it seems very likely that ECU will pull out of them in response.
ECU's new athletic director Jon Gilbert responded to the Virginia Tech cancellation, calling the development "disappointing."
According to The News & Observer, ECU declined having the 2019 game moved from Greenville to a neutral site, something proposed by Virginia Tech.
Now, both teams will have to look for new 2019 opponents:
"We received communication from Virginia Tech late Friday afternoon concerning the future of our football series and were notified, contrary to our existing contracts, it would not play ECU in Greenville during the 2019, 2023 and 2025 seasons," Gilbert said. "While this is disappointing, especially from a regional interest standpoint and given our long-standing partnership, ECU's decision not to travel to Blacksburg last September was based on imminent safety concerns related to Hurricane Florence, which tragically claimed multiple fatalities and devastated many North Carolina communities that are still in the recovery process today. Ultimately, the decision was made for the safety and welfare of our student-athletes, coaches, staff and their families and that will always be our top priority."
The decision is made even more interesting on Virginia Tech's side, because it puts the school in a precarious position this late in the game for adding an additional 2019 game.
Per that News & Observer report, the Hokies will likely add a second FCS game, on top of a game against Furman. That means that Virginia Tech will need to win five of its non-FCS games to reach bowl eligibility, as teams are only allowed to count one game against FCS squads towards a bowl.
One would think that would not be a huge issue for a program like the Hokies, but they needed a win in a make-up game against Marshall earlier this month to reach 6-6 on the year.