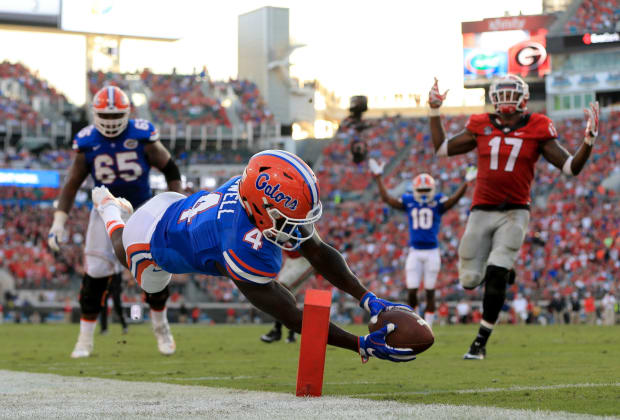 This weekend may be the calm before the Week 11, and specifically, the Alabama-LSU storm. Still, there are some exciting matchups awaiting us in College Football Week 10.
The obvious headliner is taking place down in Jacksonville on Saturday afternoon. Florida and Georgia renew their heated rivalry, with the SEC East very much on the line.
A win at the Cocktail Party doesn't secure a division win for either one-loss team, but it makes it extremely likely. Florida has been a nice surprise, even after losing starting quarterback Feleipe Franks for the season. The Gators sole loss came against No. 1 LSU, a week after they scored a huge win over Auburn.
Georgia's signature win to this point is over Notre Dame at home by a touchdown, though that many not be the same shiny resume booster it once was, after the Fighting Irish got destroyed at Michigan last weekend. Georgia's loss is also much worse, at home against a South Carolina team playing its third-string quarterback down the stretch.
That isn't the only big game, though. In the Pac-12, the two main contenders for the league crown have tough dates, with Utah traveling to Washington, and Oregon at USC. Either team could conceivably crawl into the College Football Playoff conversation, but definitely need to win out and get a lot of help.
We also have one of the biggest games of the Group of Five season, with No. 24 Memphis hosting No. 15 SMU, the highest-ranked G5 team in the country. That will have a huge impact on the eventual G5 rep in the New Year's Six bowl games, and the AAC race.
It also serves as the host for College GameDaythis week, as the show makes a fun trip to Beale Street.
Our weekly staff picks contest got another big shakeup last week. Here's where things stand:
1. Dan Lyons: 263-78
2. Stephen Driscoll: 261-80
3. Andrew McCarty: 260-81
4. Alek Arend: 258-83
5. Matt Hladik: 257-84
T-6. Andrew Holleran: 256-85
T-6. Tzvi Machlin: 256-85
8. Chris Rosvoglou: 255-86
9. Matt Lombardi: 251-90
We don't have a ton of big staff splits this week, though Florida vs. Georgia is basically right down the middle. Syracuse-Boston College, Utah-Washington, SMU-Memphis, and UNC-Virginia are also pretty contentious.
Things kick off tonight, with a pair of undefeated ranked teams in action: Baylor and Appalachian State both defending home field.
Here are our picks for College Football Week 10: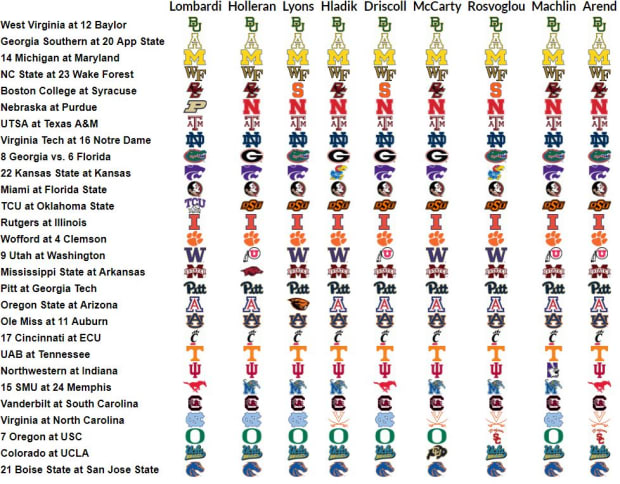 Every week, we pick each game involving Power Five and other Top 25 programs. Check back to see how the contest, which often comes down to the final slate of games, shakes out.