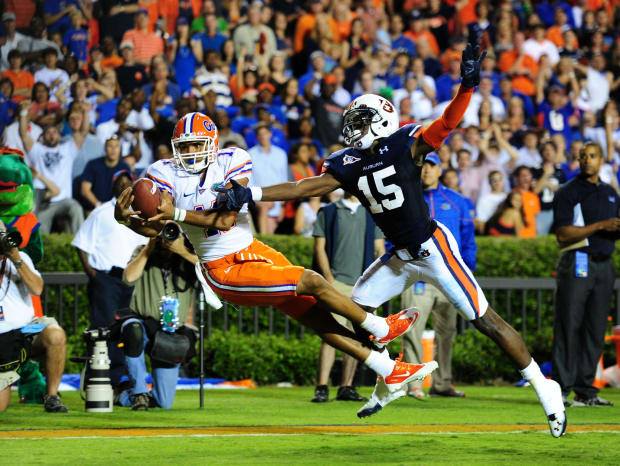 College Football Week 6 kicks off tonight with a pair of Group of Five games between Georgia Southern and South Alabama, and then Temple and East Carolina.
On Friday night, things heat up a bit. No. 18 UCF makes the trip up to Cincinnati in what will be a crucial game for deciding the ACC East. We also have a New Mexico-San Jose State game.
Of course, the Saturday slate is what people are here for. That brings a pretty fun slate of games.
At noon, No. 14 Iowa travels to No. 19 Michigan. That game is up against LSU, Oklahoma, Wisconsin, and Penn State all in action, elsewhere in the Top 12.
No. 21 Oklahoma State travels to Texas Tech, No. 3 Georgia is in Tennessee, and No. 25 Michigan State is looking for a big upset at No. 4 Ohio State. Among the late night games is No. 15 Washington at Stanford.
The highlight of the week comes in the SEC. No. 7 Auburn brings its tenacious defense to the swamp for a date with No. 10 Florida.
Through five weeks of staff picks, the gap between first and last has been extended to 10 games. We also only have one tie in any position, with a two-way tie for second place, just one game out of first place. Things remain very close at the top:
1. Dan Lyons: 178-40
T-2. Stephen Driscoll: 177-41
T-2. Alek Arend: 177-41
4. Matt Hladik: 176-42
5. Andrew McCarty: 175-43
6. Tzvi Machlin: 174-44
7. Chris Rosvoglou: 172-46
8. Andrew Holleran: 170-48
9. Matt Lombardi: 168-50
Our picks are relatively consistent this week, without any real direct splits. The biggest splits come with Iowa and Oregon State, which have three dissenting picks each. Two pickers each have Cincinnati, TCU, Boston College, Florida, and Baylor as well.
Here are our picks for College Football Week 6: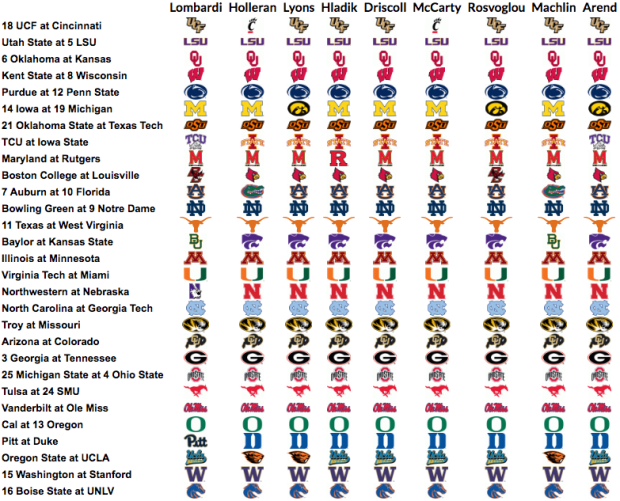 Every week, we pick each game involving Power Five and other Top 25 programs. Check back to see how the contest, which often comes down to the final slate of games, shakes out.