College Football Week 4 is here, and with it, a lot of in-conference, Power Five vs. Power Five match-ups. After a few weekends of relatively light schedules, that is very welcome.
Week 3 provided some major trouble spots for our whole staff, especially with the ACC's struggles. We all took Boston College, NC State, and Georgia Tech, which were the major upsets in that league, as well as Illinois' loss to Eastern Michigan, Colorado to Air Force, and Michigan State to Arizona State.
This week brings some huge ranked games. No. 11 Michigan travels to No. 13 Wisconsin, a real opportunity for both programs to prove themselves as true Big Ten title contenders.
No. 7 Notre Dame at No. 3 Georgia is the highlight of the late games, a rematch of a dramatic Georgia win in South Bend back in 2017. The SEC also pits No. 8 Auburn at No. 17 Texas A&M.
There should be plenty of fun to be had on Saturday.
Through three weeks of staff picks, we have an eight-pick difference between first and last place. Here is how the standings look so far:
1. Stephen Driscoll: 126-26
T-2. Dan Lyons: 124-28
T-2. Matt Hladik: 124-28
T-2. Tzvi Machlin: 124-28
5. Alek Arend: 123-29
T-6. Andrew Holleran: 122-30
T-6. Andrew McCarty: 122-30
8. Chris Rosvoglou: 121-31
9. Matt Lombardi: 118-34
Week 4 kicks off with two intriguing games involving ranked teams on Friday night. No. 10 Utah looks to assert itself as the Pac-12 South favorite with a trip to USC, while No. 20 Boise State hosts Air Force, which is coming off of a big win over Colorado.
On Saturday, we have some sizable splits on Michigan State at Northwestern, Kentucky at Mississippi State, and Colorado at No. 24 Arizona State.
Here are our picks for College Football Week 4: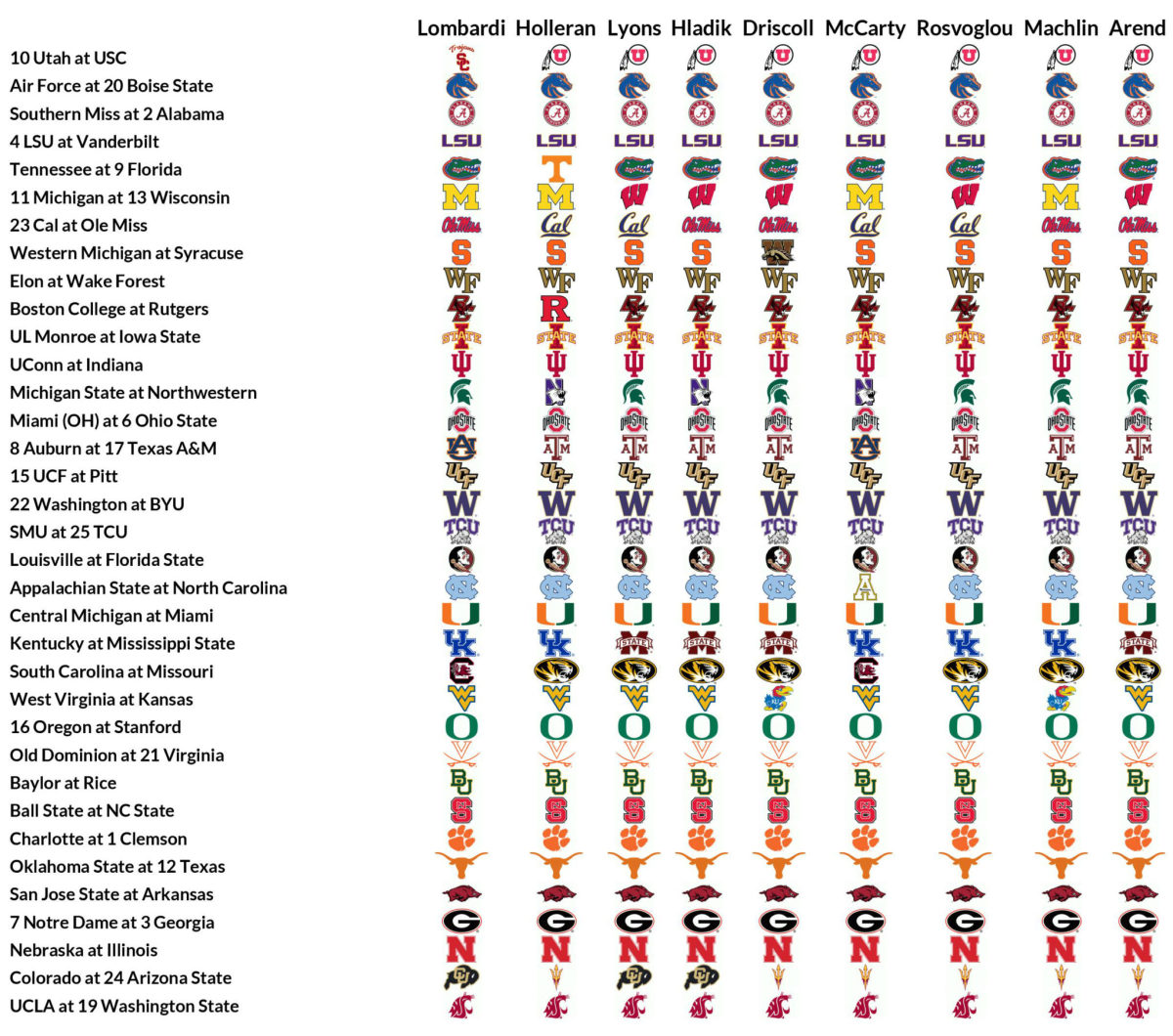 Every week, we pick each game involving Power Five and other Top 25 programs. Check back to see how the contest, which often comes down to the final slate of games, shakes out.
The post The Spun's 2019 College Football Staff Picks: Week 4 appeared first on The Spun.