We're getting into the heart of conference play here in College Football Week 5. That means plenty of big Power Five matchups.
Last week brought some pretty significant upsets. Only one of our staff members had Utah falling to USC in Los Angeles, and Appalachian State knocking off North Carolina.
All of us missed TCU's loss to SMU, UCF's dramatic loss at Pitt, the crazy UCLA-Washington State game, and of course, Arkansas losing to lowly San Jose State.
On Saturday, we have ranked battles between Notre Dame and Virginia in South Bend and Washington and USC in Seattle, along with intriguing games between Penn State and Maryland, Iowa State and Baylor, Mississippi State and Auburn, Kansas State and Oklahoma State, and the College GameDay host game Ohio State at Nebraska.
Through four weeks of staff picks, we still have an eight-pick difference between first and last place. Here is how the standings look after the first month of games:
1. Dan Lyons: 152-35
T-2. Stephen Driscoll: 150-37
T-2. Matt Hladik: 150-37
4. Alek Arend: 149-38
T-5. Andrew McCarty: 147-40
T-5. Chris Rosvoglou: 147-40
T-5. Tzvi Machlin: 147-40
T-8. Andrew Holleran: 144-43
T-8. Matt Lombardi: 144-43
Week 5 opens tonight, with Navy at Memphis in the AAC, followed by Friday editions of Duke at Virginia, No. 12 Penn State at Maryland, and Arizona State at No. 15 Cal, one of the biggest surprise teams in college football so far.
Here are our picks for College Football Week 5: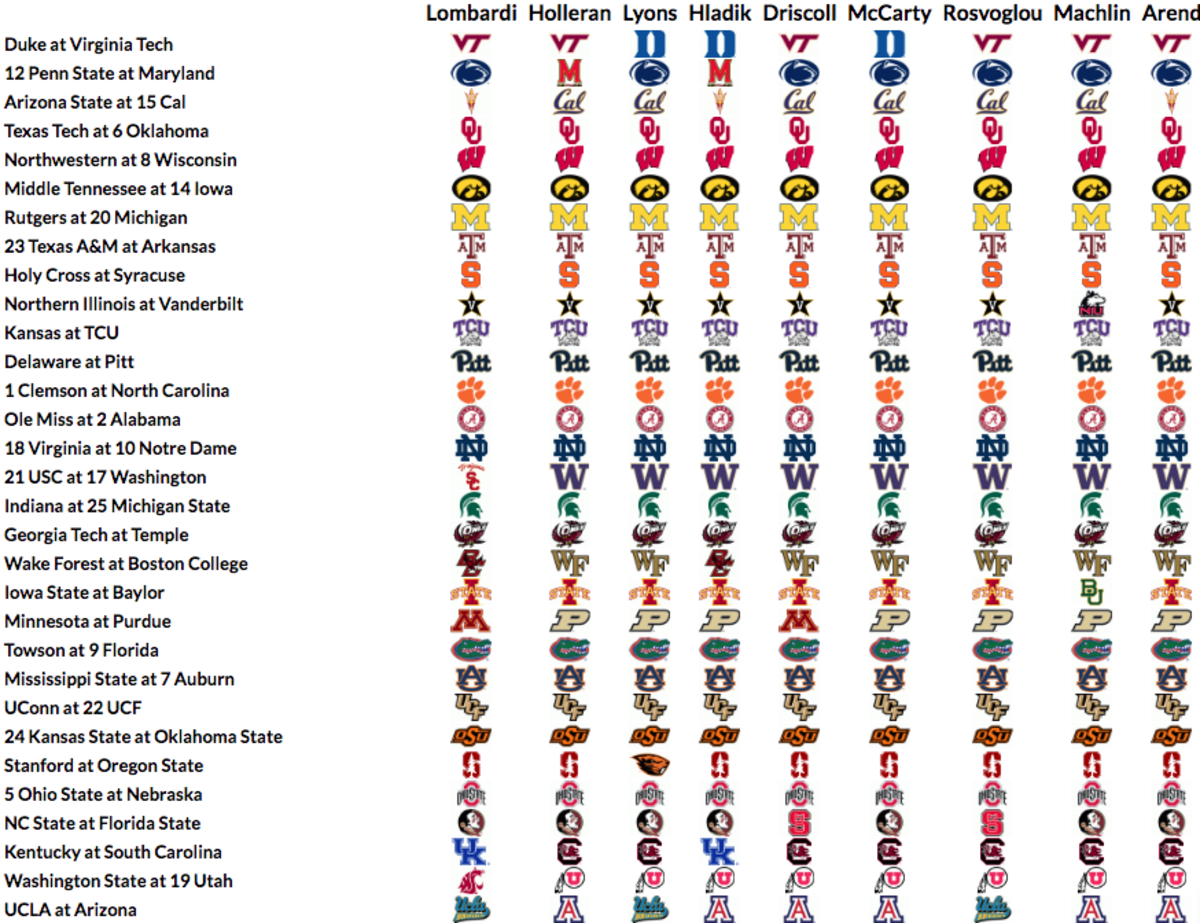 The biggest divides for our staff this week come with the Duke-Virginia Tech, UCLA-Arizona, and Arizona State-Cal. We do have some upset picks for Maryland over Penn State, USC over Washington, Oregon State over Stanford, and Wazzu over Utah.
Every week, we pick each game involving Power Five and other Top 25 programs. Check back to see how the contest, which often comes down to the final slate of games, shakes out.
The post The Spun's 2019 College Football Staff Picks: Week 5 appeared first on The Spun.