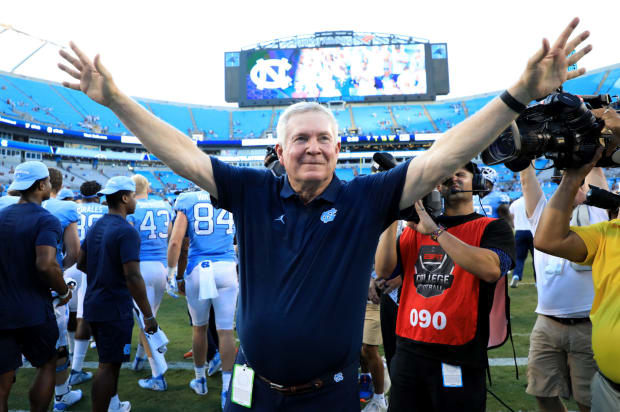 On Thursday, two border rivals will clash in the Duke Mayo Bowl. North Carolina and South Carolina square off for the first time since 2019 with a trophy on the line.
Ahead of the matchup, ESPN posted a hilarious graphic revealing that the winner will get a tub of mayonnaise poured on them in lieu of Gatorade. The respective coaches responses quickly went viral.
"I'm not a big mayonnaise guy," South Carolina coach Shane Beamer responded. "I mean, I'll gladly take one for the team on that one if it means we won a football game. But woof."
Tar Heels coach Mack Brown was a bit more blunt in his response.
"If we won a game, I'd let someone hit me in the face with a frying pan," Brown said. "I don't care."
Both teams enter the bowl game 6-6. With UNC favored to win by ESPN's Football Power Index. According to the ESPN FPI, Mack Brown's team has a 69.8 percent chance to win. While Beamer's Gamecocks only have a 30.2 percent chance.
The first meeting between the neighboring state schools dates back to 1908. North Carolina owns the upper hand in the series with a 35-19-4 record.