Hoops Rumors is looking ahead at the 2020/21 salary cap situations for all 30 NBA teams. Due to the impact of the coronavirus pandemic on the NBA, it's impossible to know yet where the cap for 2020/21 will land. Given the league's lost revenue, we're assuming for now that it will stay the same as the '19/20 cap, but it's entirely possible it will end up higher or lower than that.

Projected by oddsmakers before the 2019/20 season to be the worst team in the Eastern Conference, the Hornets outperformed those low expectations, holding the 10th spot in the East when the NBA suspended play, albeit with an uninspiring 23-42 record.
While this roster isn't stacked with talent and Charlotte doesn't have great odds to land a top-four pick in the 2020 draft, the organization is at least getting some money off its books this summer. In addition to getting out from under Bismack Biyombo's massive contract, the team also moved on from longtime Hornets Michael Kidd-Gilchrist and Marvin Williams earlier this year. With Nicolas Batum's $27MM option for '20/21 still on the books, the slate isn't entirely clean, but the Hornets should finally have a little cap flexibility going forward.
Here's where things stand for the Hornets financially in 2020/21, as we continue our Salary Cap Preview series:
Guaranteed Salary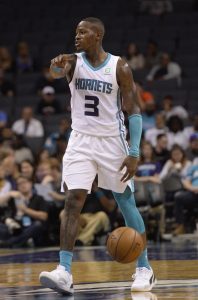 Terry Rozier ($18,900,000)
Cody Zeller ($15,415,730)
Malik Monk ($5,345,687)
P.J. Washington ($4,023,600)
Miles Bridges ($3,934,320)
Cody Martin ($1,517,981)
Total: $49,137,318

Player Options
Team Options
Non-Guaranteed Salary
Restricted Free Agents
Unrestricted Free Agents / Other Cap Holds
Bismack Biyombo ($25,500,000): Bird rights
No. 8 overall pick ($4,862,040) 4
Willy Hernangomez ($1,620,564): Bird rights
Shelvin Mack ($1,620,564): Non-Bird rights 5
Brian Roberts ($1,620,564): Non-Bird rights 5
Marcus Paige ($1,445,697): Non-Bird rights 5
Total: $36,669,429
Offseason Cap Outlook

Although they have less than $50MM in guaranteed money currently committed for 2020/21, the Hornets can expect that number to rise significantly when Batum officially opts in. Throw in Graham's modest team option and a cap hold for their lottery pick and the Hornets are up near $83MM in guarantees.
Still, that's not a massive number. Even after accounting for empty roster charges and a potential dip in the '20/21 cap, Charlotte still projects to have $22-24MM in space to work with. And that number would increase if the cap does.
Cap Exceptions Available
Room exception: $4,767,000 6
Footnotes
Graham's salary becomes fully guaranteed after July 7.
Martin's salary becomes fully guaranteed after July 15.
McDaniels' salary becomes partially guaranteed ($100K) after August 1.
The cap hold for this pick will depend on where it ultimately falls in the lottery. Currently, the Hornets rank eighth in the lottery standings.
The cap holds for Mack, Roberts, and Paige remain on the Hornets' books because they haven't been renounced after going unsigned in 2019/20. They can't be used in a sign-and-trade deal.
This is a projected value.
Note: Minimum-salary and rookie-scale cap holds are based on the salary cap and could increase or decrease depending on where the cap lands.
Salary information from Basketball Insiders and Early Bird Rights was used in the creation of this post. Photo courtesy of USA Today Sports Images.