Hornets guard Malik Monk has been reinstated by the NBA following his suspension for violating the league's anti-drug policy, tweets Rick Bonnell of The Charlotte Observer. Hornets president of basketball operations Mitch Kupchak confirmed the news during his end-of-season press conference on Monday morning, adds Malika Andrews of ESPN (via Twitter).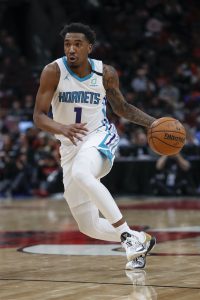 The NBA announced Monk's indefinite suspension on February 26. At the time, the league indicated that the ban would continue until Monk was determined to be "in full compliance" with the anti-drug program — presumably, that has now happened.
The full details surrounding Monk's suspension weren't announced or reported, but the NBA's Collective Bargaining Agreement states that certain drug violations – including for drugs of abuse – require a player to enter a treatment or care program. If the player violates the terms of that program, he will be suspended "until such time as the Medical Director determines that he has fully complied" with the program, per the CBA.
Monk missed eight games due to the suspension before the NBA put its season on hold in March. A suspension of less than 20 games was projected to cost the third-year guard just under $28K per game (1/145th of his $4,028,400 salary). That would work out to about $222K in lost income for Monk, and the abrupt end of Charlotte's season figures to further cut into his earnings for 2019/20.
The 11th overall pick in the 2017 draft, Monk hasn't been the scorer and shooter the Hornets hoped for through his first three NBA seasons, averaging just 8.6 PPG with a .322 3PT%. However, he had played well leading up to his suspension, scoring 17.0 PPG on .457/.350/.851 shooting in his last 13 games (27.9 MPG) of the 2019/20 season.
Monk is one of two dozen players who will be eligible for a rookie scale extension once the 2020/21 league year begins. However, the odds of Charlotte extending him this offseason are extremely slim, given his inconsistent play on the court and the suspension that kept him off it.
Photo courtesy of USA Today Sports Images.