The Carolina Hurricanes appear to have hit the jackpot in 2020 first-round pick Seth Jarvis, who is already a regular in the top-six and produced 48 points in 82 games (combined regular season and playoffs) this year. With Jarvis' rocket-fueled ascension though, there have been fewer minutes and fewer opportunities for another first-round selection.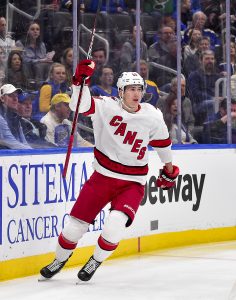 Martin Necas, the 12th overall pick in 2017, saw his ice time drop to just over 16 minutes a night this season and even lower than that in the playoffs, where he failed to score a single goal. The 23-year-old was drafted with the potential to play center but has been used almost exclusively on the wing so far and took a noticeable step backward offensively this season.
He was honest about this fact at his end-of-year availability, telling reporters:
I have to help the team more, I have to produce more. That's what everyone expects from me and I didn't do that this year. It was disappointing.
Necas had 40 points in 78 regular season games, not even reaching the mark he set last year in the shortened 56-game schedule. He is now a restricted free agent coming off his entry-level contract with 119 points in 203 career games.
Still, there is so much obvious upside in the 6'3″ forward that it's easy to understand why teams might be calling. Pierre LeBrun explained on TSN's Insider Trading that the Hurricanes may not be rushing to trade Necas but if a deal came about for a young defenseman, they would at least listen.
While releasing that information may just be a negotiating tactic, the Hurricanes are obviously considering some changes. Just a few days ago it was reported that Ethan Bear has been given permission to speak to other teams about his own value heading into an RFA negotiation, and with Vincent Trocheck, Nino Niederreiter, Max Domi, Derek Stepan, Ian Cole, and Brendan Smith all set to hit the open market, Carolina could have a very different look at the start of next season.
Photo courtesy of USA Today Sports Images