Chase Blackburn was an energetic reserve linebacker for the New York Giants. An accidental mishap with a reporter could have drained Blackburn of his positive attitude.
A key backup during Eli Manning's early years with the Giants, here's how Chase Blackburn suffered hearing loss because a reporter took the wrong step.
Chase Blackburn was a longtime Giants linebacker
RELATED: Daniel Jones Will Follow the Dak Prescott Development Route With Giants
An undrafted rookie in 2005 out of Akron, Chase Blackburn quickly found a home with the New York Giants.
Blackburn had 333 tackles, four interceptions, 4.5 sacks, five forced fumbles, and five fumble recoveries from 2005-12. He was a crucial special teams contributor capable of holding his own at outside or middle linebacker whenever the Giants needed him.
Blackburn won two Super Bowls with the Giants and had important moments in each game. During the first Super Bowl, a 17-14 upset of the New England Patriots in early 2008, Blackburn was called for being the 12th man on the field.
That play gave the Patriots life, but it also later provided the Giants with good field position when New England turned it over on downs.
Four years later, Chase Blackburn intercepted Tom Brady in Super Bowl 46. Blackburn also totaled six tackles in the Giants' win.
Blackburn lost his hearing after an incident with a reporter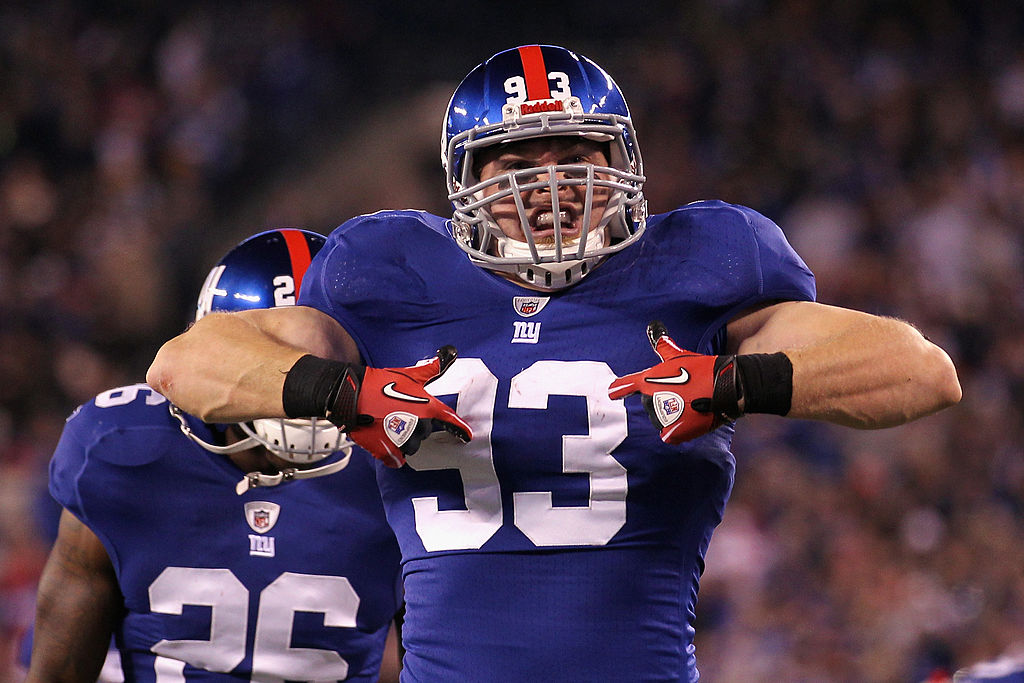 RELATED: Tiki Barber Envisions Saquon Barkley Crushing His Giants' Records
Chase Blackburn had every reason to be in a good mood after the events of Sept. 30, 2007. The Giants had won their second straight game, this time against the rival Philadelphia Eagles, and sacked Eagles star Donovan McNabb on 12 occasions.
After the game, Blackburn was cleaning his ear with a cotton swab. A reporter accidentally bumped into the linebacker and the contact nearly ruptured Blackburn's eardrum.
Blackburn fell to the ground in pain. At the time, doctors said Blackburn lost hearing in his ear and would need time to get it back, according to ESPN archives.
Blackburn didn't miss any time and totaled two tackles in the Giants' next win, a 35-24 drubbing of the crosstown Jets. More importantly, he also eventually regained his hearing.
Chase Blackburn wasn't the only New York athlete who suffered an injury because of a reporter that week. Yankees first baseman Doug Mientkiewicz injured his ankle before a playoff game against the Cleveland Indians when he collided with a cameraman.
Chase Blackburn is now a rising special teams coach
RELATED: Panthers Pinpoint Why Christian McCaffrey Got His Record-Breaking Deal
Chase Blackburn retired after the 2014 season with over $7 million in career earnings, according to Spotrac.
Blackburn has stayed around the game since then and is rising in the coaching ranks. He spent his final two seasons with the Carolina Panthers and joined them as a coach in 2016.
Former Panthers coach Ron Rivera promoted Blackburn to special teams coordinator in 2018. New Panthers coach Matt Rhule retained Blackburn when he took over earlier this year.
Chase Blackburn certainly had an eventful and busy playing career. Now, Blackburn is an intriguing young coach and, thankfully, has hearing in both ears.
The post A Postgame Accident With a Reporter Cost Giants Linebacker Chase Blackburn His Hearing appeared first on Sportscasting | Pure Sports.