Multiple teams are still interested in trading for Texans QB Deshaun Watson, as Ian Rapoport of the NFL Network reports (video link). Critically, Rapoport says Watson would not be placed on the commissioner's exempt list if he were to be dealt.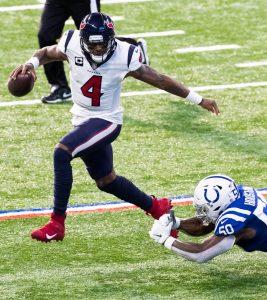 Of course, Watson has no interest in playing for the Texans, and the Texans have no interest in trying to force their best trade asset to suit up. So he has effectively been on paid leave all season, but we have heard all along that if another club were to trade for the three-time Pro Bowler, the league could step in and park him on the exempt list until his legal situation is resolved, thereby making a trade difficult to consummate.
Rapoport, citing the provision of the NFL's personal conduct policy that states that a player can be placed on the exempt list if he has been charged with a felony or violent crime, says Watson — who has not been criminally charged at this point — should be eligible to play for any team that acquires him. And, RapSheet hears that a deal is expected to be completed prior to the November 2 deadline.
A recent report indicated that the Panthers and Eagles were no longer involved in the Watson sweepstakes and that the Dolphins were the only team left standing. However, Rapoport says the Dolphins are not alone in their pursuit, and that in addition to Carolina, Philadelphia, and the Broncos, there are other clubs sniffing around.
That report could have been leaked by the Texans in an effort to get Miami to increase its offer. Jason La Canfora of CBS Sports writes that no team has been as motivated as the Dolphins to get a deal done, and Jay Glazer of FOX Sports reports that the Texans have told another club that they have to beat Miami's offer (via Barry Jackson of the Miami Herald on Twitter). Plus, it's unclear if Watson will waive his no-trade clause for any team other than the Dolphins.
In addition to Watson, there are other Texans players that could be on the move in the next week or so. La Canfora hears that LT Laremy Tunsil could have been a trade candidate if he had not suffered a serious thumb injury earlier this month, and other players that GM Nick Caserio might seek to trade include QB Tyrod Taylor, RB Phillip Lindsay, LB Christian Kirksey, and CB Desmond King.
Photo courtesy of USA Today Sports Images.