When Cam Newton rejoined the Panthers this week, we learned that he could collect up to $10MM on his one-year contract. Well, it sounds like Newton will be hard pressed to reach those incentives, with the majority of his bonuses tied to the team's performance in the postseason.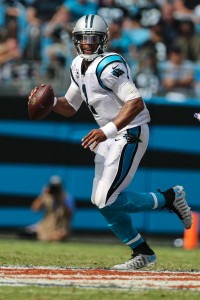 [RELATED: Panthers Sign QB Cam Newton]
ESPN's Field Yates has provided (via Twitter) the full details on the QB's contract with the Panthers. Newton can earn an extra $500K for each playoff win (coupled with playing at least 50 percent of the team's offensive snaps). Newton can also earn an additional $1.5MM for a Super Bowl win (+ 50% playing time) and another $1MM if he wins Super Bowl MVP.
No disrespect to the Panthers, but there's no guarantee that they even make the playoffs, much less get a playoff win. Per DraftKings Sportsbook, there are 11 NFC teams with better odds to make the Super Bowl, and there are 23 NFL teams with a better chance of winning the championship. Even if you ignore the Panthers' odds, there's still a chance the team goes back to Sam Darnold once he returns from the IR.
In reality, Newton will likely earn the previously reported $4.5MM that is guaranteed plus his per-game roster bonus. In other words, assuming Newton is rostered for the rest of the season and the Panthers either fail to make the playoffs or fail to win a postseason game, then Newton's really looking at a max contract value of $6MM.
Those per-game roster bonuses are valued at $187.5K, per Yates. Newton's $4.5MM guaranteed is divided with a $2.25MM signing bonus and a $2.25MM base salary.
Photo courtesy of USA Today Sports Images.