4:46pm: The Panthers and Browns have continued their conversations on Mayfield, Tom Pelissero of NFL.com notes (video link). The expectation now is Cleveland needing to eat a chunk of Mayfield's $18.9MM fifth-year option salary would stand to improve Mayfield's price tag, but NFL.com's Ian Rapoport adds the cost for the since-replaced QB is expected to be a Day 3 pick.
The Panthers are also a candidate to trade into Round 2 for a rookie, but that would be quite costly. Because of its trades for Sam Darnold and C.J. Henderson, Carolina does not pick again until No. 137. Carolina is, however, high on Willis and Corral. Both visited the Panthers earlier this month, joining fellow potential Carolina target Howell in doing so.
12:04pm: Day 1 of this year's draft has come and gone, and Sam Darnold remains at the top of the Panthers' quarterback depth chart. While that doesn't come as a surprise, the team's situation at the position could still change in the near future.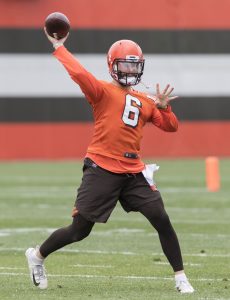 [RELATED: Panthers Select Ekwonu At No. 6]
According to Jeff Howe of the Athletic, Carolina's interest in veterans such as Baker Mayfield and Jimmy Garoppolo could heat back up. Given the fact that they made the expected move to bolster their offensive line by drafting Ikem Ekwonu sixth overall, he writes, the Panthers "now should be players for Mayfield."
The two parties were linked in the build-up to the draft, with Carolina finding themselves as one of the runners-up to acquire Deshaun Watson. After initial reports indicated the team had little, if any, interest in Mayfield, the Panthers emerged in the eyes of many as the favorite to acquire him. Doing so, however, was only thought to be feasible after at least the draft's opening round.
As Howe notes, any potential trade involving Mayfield is complicated by a number of factors. One is his contract; the 2018 No. 1 pick is due $18.86MM on the fifth-year option, just as Darnold is. For that reason, Howe writes, "the Browns are prepared to pay a portion of Mayfield's salary to facilitate a deal." Another is the team's complete lack of Day 2 picks, taking them out of the running to draft the likes of Malik Willis, Desmond Ridder, Sam Howell or Matt Corral without sacrificing 2023 capital.
"I think we'll look at every opportunity out there" said general manager Scott Fitterer, via Howe's colleague Joe Person, regarding the QB market. "There's still some really good players in this draft. And we'll also look at every opportunity outside the organization." Whether the team acts on those opportunities will be worth monitoring as the weekend progresses.