Panthers head coach Matt Rhule told reporters on Wednesday that quarterback Sam Darnold, who is dealing with a fracture of the scapula on his right shoulder, will miss at least four to six weeks. According to Adam Schefter of ESPN.com, Carolina is confident that Darnold will actually miss the rest of the season, which is what prompted the club to reunite with Cam Newton earlier this week.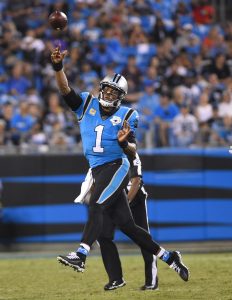 As soon as the Panthers knew that Darnold would likely be sidelined for the remainder of the 2021 campaign, they reviewed their in-house and outside options and determined that Newton was the best choice. As Ian Rapoport of NFL.com writes, Rhule then called Newton to determine the former MVP's interest in rejoining his old team, and Newton was very excited about the prospect.
At that point, the discussions hinged on two factors, one of which was money. Newton, who is still getting paid by the Patriots, was not going to settle for the veteran minimum, which is why the two sides ultimately came together on a $6MM pact (although Newton can earn up to $10MM, it will be difficult for him to reach that maximum).
Just as important was Newton's desire for "direct communication and accountability." In other words, if the team has an issue with him, he wants to be told about it directly, just as Patriots head coach Bill Belichick did with him in New England. Rhule, GM Scott Fitterer, VP of football operations Steven Drummond — whose relationship with Newton helped get the deal done — and owner David Tepper promised him as much.
When initially asked about the possibility of re-signing Newton in 2022, Fitterer was noncommittal, saying, "we're not there yet" (Twitter link via David Newton of ESPN.com). However, Schefter says that if Newton plays well for the rest of the season, he would immediately become the favorite to serve as the starting QB next year.
Rapoport, meanwhile, notes that while the team is certainly open to another contract for Newton, Carolina has by no means given up on Darnold. After all, Darnold is owed a fully-guaranteed $18.858MM for the 2022 season, and the Panthers liked what they saw from him in the first three weeks of this year. The club thinks that his shoulder ailment contributed to his poor performance over the last few weeks, and it has no intention of trying to cut ties this offseason.
If Newton plays in this afternoon's contest against the Cardinals, he will only see a limited number of snaps. As we already knew, P.J. Walker will serve as today's QB1. But assuming all goes well in practice over the coming days, Newton has a good chance to suit up against Washington and old friend Ron Rivera next week.
Photo courtesy of USA Today Sports Images.