Russell Okung won't go down without a fight. The Panthers tackle says he will appeal the dismissal of his unfair labor claim against the NFLPA (Twitter link). The National Labor Relations Board turned down Okung's case just last week.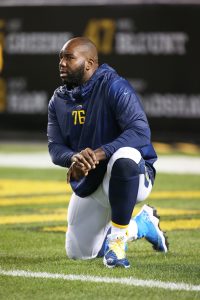 Okung claims NFLPA leader DeMaurice Smith pushed the CBA vote through to union-wide vote, despite the opposition of the executive committee. Some established vets and union leaders, including Okung, were vocal in their disapproval, but the union's rules didn't necessarily require their yes vote.
The executive committee voted 6-5 in February not to recommend the owners' CBA pitch, and after the NFL Draft Combine meeting, the exec committee was reportedly at 7-4 against recommending the CBA. The key word there is "recommending" – the NFLPA's bylaws do not necessarily require a thumbs-up from that group. After that, the union's 32-player board voted to send the proposal to the entire player body.
"We look forward to a neutral party scrutinizing the NFLPA leadership's history of circumventing and ignoring the union's constitutional mandates and failure to represent the best interests of the labor force, culminating in a flawed, disappointing Collective Bargaining Agreement and forcing out of a leadership position a person who has shown enormous courage in fighting for players' rights and protections," Okung's attorney said in a statement.
Meanwhile, Okung is gearing up for his new team in advance of the 2020 season. The Chargers shipped Okung to the Panthers in March and received guard Trai Turner in exchange.
"I made it really clear, I'm not here to just rebuild," Okung said recently (via ESPN.com's David Newton). "I'm here to win, and win right now."
Photo courtesy of USA Today Sports Images.