Two division rivals were engaged in an interesting game of tug-of-war at the tail end of the 2020 draft, with the prize being Mississippi State quarterback Tommy Stevens. On Day 2 of the draft, New Orleans traded pick nos. 130, 169, 203, and 244 to the Vikings for the right to move up to no. 105 and select Dayton tight end Adam Trautman. That left the team with no Day 3 selections, so as Jeff Duncan of The Athletic writes, the Saints spent much of that day planning for the UDFA signing period.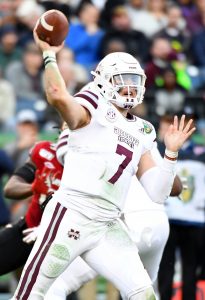 One of New Orleans' top UDFA targets was Stevens, who may ultimately fill the same QB2/gadget role that Taysom Hill presently occupies. But the Saints learned that the Panthers were interested in Stevens as well and were prepared to offer him a $15K signing bonus and guarantee $30K of his salary if he signed with Carolina as a UDFA. The Saints swooped in and offered a massive $144K in guaranteed salary if he would agree to sign with New Orleans, but then Stevens' camp stopped answering the Saints' calls.
Perhaps the Panthers topped the Saints' offer, or perhaps Stevens viewed Carolina as a better long-term fit. But Saints head coach Sean Payton coveted the 6-5, 235-pound signal-caller, so he helped engineer a trade back into the seventh round of the draft to grab him, leaving the Panthers stunned.
This makes for an interesting story, one that may ultimately have no significance if Stevens, like most seventh-round picks, doesn't pan out. The problem, as Mike Florio of Pro Football Talk observes, is that both the Saints and the Panthers flagrantly violated league rules. Once the draft begins, teams are at liberty to let prospects know that they are interested in them if they go undrafted, but they cannot discuss financial details. The NFL drove that point home in a league-wide memo this year, perhaps because the UDFA signing period was expected to be even more frenzied than usual.
As Florio notes in a separate piece, the league has yet to comment on the matter, though the Panthers have said that their actions were in compliance with league rules. And these particular rules are surely violated all the time, probably by every team in the league. The casualness with which the Saints brass discussed the situation suggests as much. Nonetheless, a league source expects both teams to be punished, though it remains to be seen what that punishment will entail.
Photo courtesy of USA Today Sports Images.