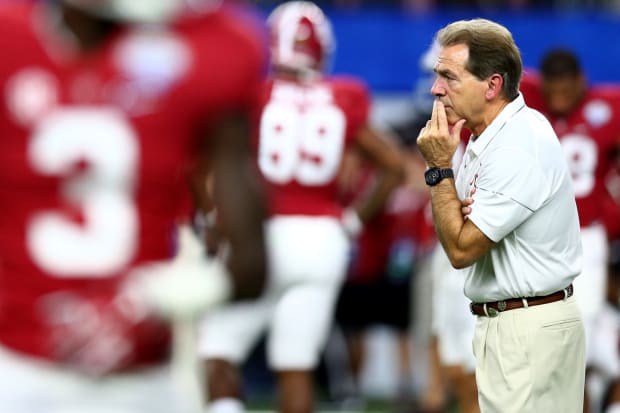 ECU transfer Gardner Minshew could be the experienced quarterback that Alabama football has been looking to add. The Mississippi native is a target of the Crimson Tide.
Minshew saw time during the last two seasons for the Pirates. In 2017, he played in all but two games for the team.
He threw for 2,140 yards, 16 touchdowns, and seven interceptions, completing 57.2-percent of his passes on the season. ECU's coaching staff had named Minshew as the No. 1 quarterback entering the spring.
Even with a leg up on the starting job, he has decided to transfer after graduating from the school. Minshew reportedly wants to finish his college career closer to home.
This weekend, Gardner Minshew will reportedly visit Alabama. From AL.com:
Gardner Minshew is set to visit Alabama this weekend, AL.com has learned.

As has been the case for multiple weeks, the Crimson Tide continues to look like the favorite to land the Brandon, Mississippi native.
As things currently stand, Alabama has a pretty fantastic quarterback situation. Jalen Hurts took the team to two straight national championship games, while Tua Tagovailoa unexpectedly took the reins and guided the team to the title last month, with a heroic second half performance against Georgia.
Both guys can play, and by courting Minshew, it may show that Nick Saban assumes one will leave. Based on the title game, Hurts is probably the leading candidate for that, though he did hold on to his starting job for the vast majority of the season and is the more experienced player.
It would also be an interesting move for Minshew, who would be in line to start in the AAC. However, the chance to be closer to home to help deal with family matters, and to compete for a national championship as a reserve player could be attractive.
During his college career, Minshew has thrown for 3,487 total yards, 24 touchdowns, and just 11 interceptions. His hometown of Brandon is just a 2.5-hour drive from Tuscaloosa.
[AL.com]