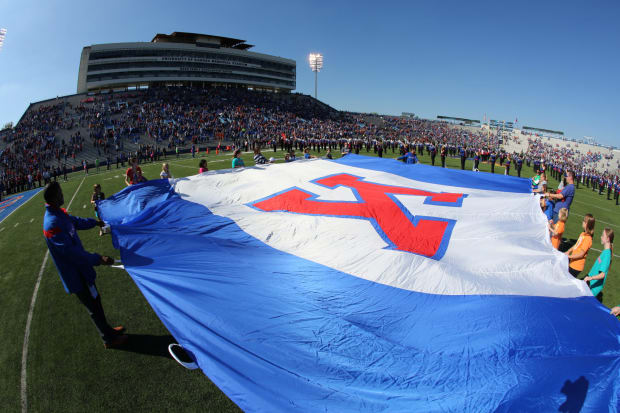 The college football coaching carousel starts earlier and earlier each year. For Kansas head coach David Beaty and ECU's Scottie Montgomery, the end could be very close.
The failure of the Kansas football staff has been on front street this week. The Jayhawks fell in overtime to the FCS-level Nicholls Colonels on Saturday evening.
The Nicholls loss is Kansas football's second to an FCS program in four years under David Beaty. Beaty's Jayhawks only have three wins total—two against FCS opponents and one stunning upset of Charlie Strong's Texas Longhorns—to go with 34 losses.
On Tuesday, athletic director Jeff Long, who came over after around a decade at Arkansas, put out a statement of support for the football program. Any time an athletic director feels the need to do that after Week 1, it is a bad sign.
David Beaty isn't the only coach on the hot seat that is in very immediate danger of losing his job.
Scottie Montgomery hasn't been much better at ECU. The Pirates brought in the former Duke staffer after making the deeply questionable move of firing Ruffin McNeil, who was 42-34 as head coach, despite a pretty big move up from Conference USA competition to the AAC.
McNeil's Pirates were 8-5 in their first year of AAC play. They took a step back to 5-7, and he was fired, despite it being just his second season without a bowl.
Montgomery started his tenure with a pair of 3-9 records, and is 3-13 in AAC play. This year, ECU's opener was postponed from Saturday to Sunday morning due to storms in the area.
Pirate fans probably wish it was just cancelled.
Like Kansas, ECU fell to an FCS program, North Carolina A&T. The Aggies pulled out a 28-23 win at Dowdy-Ficklen Stadium. With back-to-back ACC foes coming up in North Carolina and Virginia Tech, it isn't getting any easier for Montgomery and his team.
Montgomery predicted a bowl at the start of the season. He probably needs one to save his job.
Entering the season, the only games that college football analytics expert Bill Connelly of SB Nation gave ECU a 50-percent chance or better of winning were against N.C. A&T and UConn on Nov. 17. The only other game over 30-percent was Old Dominion in Week 5. All of those numbers are going to tumble with this loss.
Both Beaty and Montgomery are almost definitely losing their jobs by the time the season is out. The only real question is how long their respective athletic directors wait, with angry fans banging down their doors.