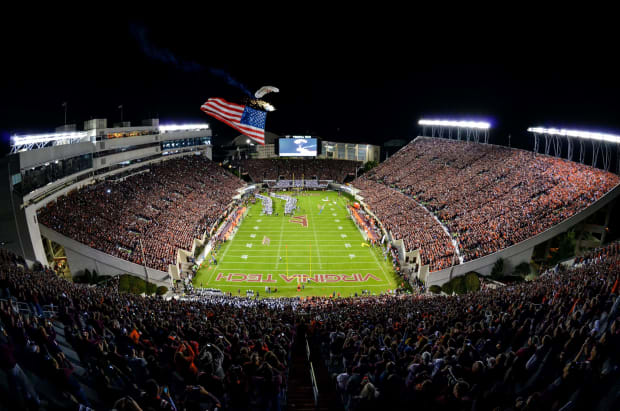 Hurricane Florence is set to hit later this week, and it has already wrecked havoc on the college football schedule. Virginia Tech-ECU is the latest game to be cancelled.
ECU, located pretty close to the coast in Greenville, N.C., elected not to travel to the game, citing "significant imminent safety concerns."
The school is also closing class for the rest of the week.
ECU says that it hopes to reschedule the game. However, no decision about a new date has been settled.

Virginia Tech AD Whit Babcock doesn't seem thrilled about ECU's decision.
Babcock spoke to the media about the cancellation this evening. He said that he hoped ECU would hold out until tomorrow, a time frame he called "more responsible and accurate."
The phrasing, based on a tweet by WRAL's Jeff Gravley, makes Babcock seem annoyed by today's announcement.
Babcock has since apologized for how his statement came off.
Cancelling football games has to be a pain, but safety for players and staff always has to be the first priority, so it is hard to blame ECU here.
This is far from the only game to be impacted this weekend. NC State-West Virginia, a pretty prominent non-conference game featuring a Heisman favorite, has also been cancelled. The same goes for UNC-UCF.
Virginia and Ohio are moving their game from Charlottesville to Vanderbilt Stadium in Nashville. The Commodores are on the road at Notre Dame this weekend, making the stadium available.