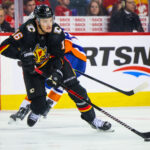 The NHL Global Series was a big blow to the Detroit Red Wings. They have been struggling to pull out wins since their five-game win streak, recording a 3-5-3 record in the 11 games since. Losing two division games only hurt things. They have been able to scratch and claw to stay in a playoff spot. However, if the Red Wings want to stay competitive, they will need to turn it around soon. A Nikita Zadorov trade could be something they explore to improve. 
Does A Zadorov Trade Make Sense for Detroit?
Defensive and Goaltending Woes Continue
The Red Wing's defence and goaltending continues to be an issue. The Senators scored four goals in the first period before the Red Wings came back and scored four of their own. Against the Toronto Maple Leafs, they had a two-goal lead heading into the third period. They lost their lead and failed to get the game into overtime to at least get an extra point. Currently, the team is 13th in the NHL in GA/PG with 3.35.
Goaltending isn't much better. The Red Wings starter Ville Husso has a .885 save percentage, Reimer the backup has a .917 and Alex Lyon has a .897. To his credit, Lyon has been out of NHL action for a long time and got thrown in against the Maple Leafs. At some point, there needs to be a wake-up call to the current roster. Making a trade can do exactly that.
Trade for Zadorov
Zadorov's agent recently sent a public tweet saying that the Calgary Flames defenceman has asked to be traded. Zadorov stands at 6'6 inches and weighs in at around 248 pounds. Easily he is one of the biggest players in the league. Zadorov's reputation is a stay-at-home defender that lays punishment on anyone who comes by him. Also, he is able to chip in offence and move the puck up the ice.
Right now the Russian defenceman has one goal, and five assists, for six points through 16 games played. He anverages over 18 minutes a night has a plus/minus of (-6). Lastly managing to be 5th on the team in Fenwick, meaning the Flames have the puck more often than the opponents do when Zadorov is on the ice. He fits the bill of what Yzerman likes in a defenceman, as he is a big player who is hard to play against. The Red Wings do need to add some physicality, especially against opponents like the Ottawa Senators and the Boston Bruins. Also, keeping the puck on Detroit's stick will aid their struggling defence.
The Cost
A Zadorov trade seems to be normally around a mid-range prospect or a second or third-round draft pick. However, Calgary is aware they have what everyone wants and are in no rush to sell. This will likely force someone to overpay. The actual price will be closer to a first-round pick or an A-rated prospect.
The Detroit Red Wings have a Boston Bruins first-round pick and their own second and third-round draft picks in the upcoming NHL entry draft. They would most likely have to trade a prospect to acquire Zadorov. Given the current log jam on defence, it will most likely be a player like William Wallinder or Shia Buium. The best case and most reasonable scenario would be the Red Wings acquiring Nikita Zadorov for Ben Chiarot, William Wallinder, and a second-round draft pick. This gives the Calgary Flames a solid defenceman who plays a similar role to Zadorov, a draft pick to take on his contract and a big puck-moving defenceman who has a good chance to end up in the NHL. Also, giving the Red Wings their big tough defencemen and freeing up a roster spot for him.
Pull the Trigger?
Do the Red Wings pull the trigger on a Zadorov trade? Steve Yzerman is not shy about making big moves. This type of trade would certainly signal to everyone that the Detroit Red Wings are aiming for the playoffs. However, this doesn't seem to have the makings of an Yzerman deal. Yes, Zadorov is going to be a major asset to whatever team he joins, but to give up a roster player, prospect, and a draft pick is a lot to give up.
These types of trades are going to happen, but the Red Wings are not in that spot right now. Yzerman said before the season began that it is not playoffs or bust even though they signed multiple free agents and created a log jam preventing prospects from making the NHL roster. An article by Thomas Foydel over at octopusthrower.com, "Detroit Red Wings: Looking at the rebuild from 10,000 feet" talks about the idea that Yzerman created the log jam and kept NHL-ready players in Grand Rapids for two reasons. 1. To give Larkin, Debrincat, Seider, Raymond, Lalonde, Etc. a competitive team and atmosphere with already proven NHLers. 2. To allow his prospects and draft picks to learn to gel and play together away from the bright lights of the NHL.
If this thought is true then Yzerman would run from this deal as fast as it was created. Messing with a current NHL roster that is figuring itself out won't help anything and taking away a solid prospect who is part of that group in Grand Rapids is going against the whole reason the log jam was created.
Main Photo: Sergei Belski-USA TODAY Sports
The post Could Nikita Zadorov Land With The Detroit Red Wings appeared first on Last Word On Hockey.