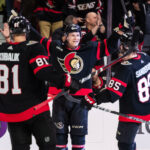 The Ottawa Senators have wrapped up their trip in Sweden, and let's just say everyone had a blast. For starters, Anton Forsberg secured the first-ever Swedish goaltender victory in an NHL game in Sweden. Perhaps the fact that the Senators are suddenly on a two-game win streak (three game overall) with former Swedish-great Daniel Alfredsson behind the bench as part of the coaching staff. But the 'pièce de résistance is the fact the Senators have not been above .500 at any point in November since the 17th of 2018. A win against the Pittsburgh Penguins put them 9-8-3 at that time. Now, after two post-regulation victories in the Avicii Arena in Stockholm, the Sens are currently 8-7-0.
A Spectacular End to the Ottawa Senators in Sweden
The Ottawa Senators have everything, good and bad, following them around it was nice to get away in Sweden. Yes, anybody and everybody will face adversity, but in the short-term, things are looking up. On one hand, Joonas Korpisalo missed the final game as a result of a day-to-day injury. Conversely, Swedish native Forsberg filled in admirably. This includes doing the 'reverse-(Peter) Forberg' en route to shutting the door on Joel Eriksson Ek. Eriksson Ek attempted the 'Forsberg' shootout move but was denied by Forsberg. Thus, this secured the shootout victory for Ottawa since Joshua Norris had found twine the shooter previous to Eriksson Ek.
Will the Highs and Lows Continue?
In some way, it cannot be understated enough how important the four points in Sweden are for the Ottawa Senators. It did after all include blowing a four-goal lead, only for Tim Stutzle's heroics with one second remaining in overtime. Therefore, the players are starting to be accountable. There are no more excuses. Everyone has injuries, or nasty rumours, such as a coach being on the chopping block. The young lineup of the Senators is invariably growing thick skin. They are getting to the point, have been there, done that, and they need to overcome. So, just how are they producing?
The Sens are getting solid production from their top players. The aforementioned Stutzle is off to a torrid pace in assists with 16 through 15 games, and adding four goals. Also, veteran Claude Giroux is over a point per game, with 16. Brady Tkachuk has been on fire scoring with 10 already. It's still early, but that is a 50-goal pace. They are getting depth scoring as well. For example, third line Dominik Kubalik is starting to get comfortable in his new surroundings. He is now up to four tucks on the campaign.
The Senators Are Powered by Their Offence
Statistically, as a team, the Sens are strong in some categories as well. One stat that shows them playing well is goals for above expected in five-on-five. This means that they are capitalizing on their opportunities which is partly the reason behind their total goals for. Their goals for above expected sits second at 13.2, just below the first place Detroit Red Wings at 13.98. Third place is the Vancouver Canucks with 8.32. These teams are among the leaders in shooting percentage as well. Detroit is first at 11.67%, Ottawa at 11.59% second, and Vancouver 11.27% finds themselves in fourth. Ottawa is playing well, but there are areas to improve on. Despite the results above expected, in total goal differential per 60, Ottawa is down to 12th at 0.28. This is hard to imagine that they lead the league in goals for per 60 at 3.49. Therefore, despite their low rank in the divisional standings still, they are gaining momentum and are on a roll.
The Defence Continues to Get in the Way
Now with all the highs, there is still much for the team to clean up. The team needs to develop a strong system to tighten up defensively. They are a middle-of-the-pack team in terms of turning the puck over. Moreover, some defensive stats they are just plain bad. In goals against above expected, they are 26th in the NHL at 5.09. They are also 17th in PK% at 78.4. Additionally, it is not a result of their play as individuals, as both tenders have held the team in games early. But in Save % above expected of goalies with at least five games played, both Sen goalies struggle. Korpisalo is 33rd at -.001 and Forsberg sits in second to last with a -0.019.
What Is Next for This Group?
These are currently two main takeaways, the Senators can score, and they need to tighten things up defensively. Let us take another look at the situation, and maybe this trip to Stockholm was just what the doctor ordered. Inviting Alfie to be back in the fold was just the extra cherry on top. The talent is there, we just need that spark. Who knows what's next, but with a very busy December coming up, the Senators are going to be scratching and clawing for every inch. They have 15 games in December, including a five-game in eight-night Western road trip. Every point becomes crucial, and that's why the four in Stockholm were huge.
Main photo: Marc DesRosiers-USA TODAY Sports
The post How Did the Ottawa Senators Fare in Sweden? appeared first on Last Word On Hockey.