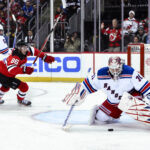 The Blueshirts have kicked off their toughest week of the season so far with a win over the Devils in "The November Gauntlet." From this past Saturday to the next, New York will play in five matchups with teams possessing winning records. Many would have said that their road trip in Western Canada might have been their first major obstacle. That trip has nothing compared to the week ahead.
With Jack Hughes returning to New Jersey's lineup on Saturday, New York was prepared for an all-out slugfest in the Battle of The Hudson. Following the Devils are four solid opponents for New York, including the league-best Boston Bruins. New York will have to continue to rely on that "next-man-up" mentality with two crucial injuries. However, after last night, that should not be a problem.
Battle of The Hudson: November Gauntlet Edition
Many Rangers fans will debate who the fiercest rival is. Some will say the New York Islanders after they controlled and dominated New York hockey in the mid-to-late 80's. Few will say the Philadelphia Flyers because of their brand of physical, tough, gloves-off style of hockey. The majority, however, will tell you that you do not have to look very far to find the Rangers main foe.
The history of Rangers versus Devils is a young one but has produced some of the greatest moments in the sport. In 1994, a man whose name is recognized like Beetlejuice and has to be said three times in a row. Stéphane MATTEAU, MATTEAU, MATTEAU's goal in 1994 saw an end to one of the longest droughts in the sport. The year 2012 belonged to Adam Henrique, who helped the Devils knock out the President's Trophy winners. Although the rivalry may be young, fans are typically blessed with "instant classics" between the Rangers and the Devils.
Saturday night's contest was a return for two stars in the Tri-State area. The previously mentioned Hughes missed five straight games with an upper-body injury. The former first-overall pick did not miss a beat, tallying the first goal for New Jersey in the opening period.
New Jersey Devils forward Jack Hughes scored the game-tying goal against the New York Rangers after the whistle sounded on what was deemed a 'continuous play' under Rule 37.3: https://t.co/Nffcka0TkT pic.twitter.com/lchrl1Swe1

— Scouting The Refs (@ScoutingTheRefs) November 19, 2023
For New York, a return was in store for their netminder as Igor Shesterkin got the start. It did take him a while to get settled, letting up two goals to Hughes and Ondrej Palat that were ones that he could have kept out. From that moment on, Shesterkin was dialled in, earning himself a 30-save performance and a victory to his name.
Who Doesn't Love Bread?
Two Blueshirts notched two goals to their name, including leading scorer Artemi Panarin. His ninth and tenth goals helped him achieve something no one has done since the late, great Rod Gilbert. Panarin has now scored in 15 straight games to start a single season. Now sitting on 26 points in 15 games played, Panarin is truly the best player on the ice. His vision might be the most underrated part of his game. Don't believe me? Just take a look at this powerplay goal.
— New York Rangers (@NYRangers) November 19, 2023
Fans have been demanding depth scoring. Some say that the line of Panarin, Vincent Trocheck, and Alexis Lafrenière are carrying the weight of goal-scoring. This was a game destined for Mika Zibanejad or even Kaapo Kakko to silence the haters just a bit. But lo and behold, Jimmy Vesey would have himself a day. The Harvard legend notched two of his own, including the game-winner.
BIG GAME JAMES. pic.twitter.com/BJYFGbGG0e

— New York Rangers (@NYRangers) November 19, 2023
Vesey played like a man on a mission. He is all too familiar with this rivalry, having played for both organizations. His performance Saturday night was a special one, earning him The Broadway Hat.
Vesey does it. ? pic.twitter.com/55bIHoC1xH

— New York Rangers (@NYRangers) November 19, 2023
The November Gauntlet (cont.)
The week ahead, or The November Gauntlet, is a scary one for New York. On deck are another two Metropolitan Division rivals in the Keystone State. The Rangers will eventually travel to both Pittsburgh and Philadelphia. Rounding out The November Gauntlet is a home matchup against the "beast of the east", the Boston Bruins.
Before then, New York is in for a tough one on Monday as they head to Dallas to take on the Stars. Peter DeBoer's squad are off to a hot start, leading the Central Division with 23 points. Jason Robertson and Joe Pavelski are two names to keep your eyes on with both having 15 points to their names. Also do not count out Tyler Seguin who's on fire, scoring three goals in his last two games.
Seggy on the fadeaway! *swish!* pic.twitter.com/aCrg0q0GTE

— Dallas Stars (@DallasStars) November 19, 2023
Puck drop is scheduled for 8 p.m. EST on Monday from American Airlines Center.
Main Photo Credit: John Jones-USA TODAY Sports
The post New York Rangers Begin November Gauntlet with Win Over New Jersey Devils appeared first on Last Word On Hockey.