With the Browns and Panthers haggling over how Baker Mayfield's 2022 salary will be paid, Cleveland taking back one of Carolina's quarterbacks in a deal would not seem in step with these negotiations. But Deshaun Watson's status may point to the Browns looking around at emergency QB options, considering Mayfield is out of the picture for such a role.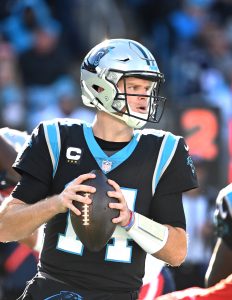 Sam Darnold is not expected to be on such a list, and as of now, the Browns are not preparing to chase a QB upgrade as part of a Watson contingency plan. A Mayfield-for-Darnold swap is not believed to be on the Browns' radar, according to cleveland.com's Mary Kay Cabot, who adds the AFC North team is confident in offseason addition Jacoby Brissett.
Carolina and Cleveland have picked up talks on Mayfield recently, with the NFC South squad displaying some urgency here. If Mayfield finally does end up being traded, the acquiring team would be wise to do it soon for the purposes of the relocating quarterback immersing himself in his new team's playbook ahead of training camp.
Matt Rhule said a trade weeks in advance of camp is not essential to a QB learning Ben McAdoo's playbook, but the more time Mayfield would have with Carolina's system, the better off he would be. Illustrating money's impact in these talks, the Panthers would have hoped to acquire Mayfield before or during minicamp for acclimation purposes, Joe Person of The Athletic notes (subscription required).
Like Mayfield, Darnold is tied to a fifth-year option salary of $18.9MM. As 2018 draftees, Mayfield and Darnold are part of the first class to have their fifth-year options fully guaranteed. While trade-value purposes should be considered here, Rhule is believed to be warming to another Darnold season. Given the efforts the Panthers have made to acquire a better QB over the past two years, that would be quite the development. Mayfield would seemingly be a better option, his inconsistency notwithstanding, but his former draft classmate has been prepping in McAdoo's system for five months.
The Browns were linked to Darnold ahead of the 2018 draft; Mayfield emerged late in the process. The two passers' work to date suggests then-GM John Dorsey made the right decision, but Darnold — who is two years younger, at 25 — has been stationed behind below-average offensive lines throughout his career. Mayfield enjoyed a top-tier line during the second half of his Cleveland run. Darnold has not shown what Mayfield has during the latter's highpoints, but with a new-look Panther O-line and a quality set of skill-position players, this might be the USC product's best chance of putting together a decent season.
Signed to a one-year, $4.65MM deal this offseason, Brissett replaced Case Keenum as the Browns' backup. The frequent fill-in starter stands to be a pivotal figure in the Browns' season. With a lengthy Watson suspension expected, the former Patriots, Colts and Dolphins QB will be on track to make several starts for a Browns team that has seen its preferred starter encounter additional turmoil since the divisive blockbuster trade occurred.