As the Browns and Panthers' salary viewpoints diverged considerably during the draft, the teams' Baker Mayfield talks broke down. Carolina traded into the third round for Matt Corral. Matt Rhule is warming up to the idea a Corral-Sam Darnold competition will be enough for this year's Panthers edition, Joe Person of The Athletic notes (subscription required).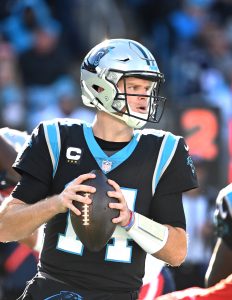 But Mayfield is still generating support from some inside the NFC South squad's building, Person adds. This has reached the point where the Panthers have resumed discussions with the Browns on a trade for the fifth-year quarterback, Jonathan Jones of CBS Sports tweets.
Both teams begin minicamp Tuesday. Rhule said last week the Panthers would evaluate their quarterback position after minicamp but indicated a free agent at any position would not need to be acquired too long before training camp to pick up new OC Ben McAdoo's system. Days later, some semblance of urgency exists on the Panthers' side on the Mayfield front, Jones adds (via Twitter). This stance would make sense, with Mayfield having a better chance to bounce back in Carolina with additional time to learn McAdoo's offense ahead of training camp.
The Panthers having checked in on Russell Wilson and aggressively pursued Deshaun Watson — a year after making a strong offer for Matthew Stafford — makes the prospect of running it back with Darnold (31st in 2021 QBR) tough to buy. But Rhule has bolted on the team's previous starter (Cam Newton, Teddy Bridgewater) in each of his first two offseasons. And the team did make upgrades along its offensive line, which would stand to aid Darnold in his second Panthers slate. But, through four seasons, Mayfield has been a far more viable starter than Darnold. For a coach on one of the NFL's hottest seats, adding a quarterback at a much cheaper cost than it took to land Bridgewater or Darnold would seemingly check out.
The Browns have waited for the Panthers' Darnold-Corral competition to induce them to return to the Mayfield table, but money still divides the teams sitting first and second in cap space. During the draft, the Browns were barely prepared to pay $3MM of Mayfield's $18.9MM fully guaranteed salary. The Panthers wanted them to pick up at least $13MM. Cleveland appears to have moved closer to the latter figure, and the more the AFC North team pays, the better the draft compensation would be. Still, Carolina should not be expected to give up much for Mayfield.
The Browns would be stuck with nearly the full salary if they release Mayfield, which has long been a non-starter. The Seahawks have been monitoring this situation for months, but lately, the only Seattle-Mayfield connections pertain to a potential release. The latest reports of Panthers-Browns talks could motivate the Seahawks — amid a Geno Smith–Drew Lock QB competition — to reconsider their trade stance. For now, Carolina remains the frontrunner for Mayfield.