The Panthers have one- and two-win seasons on their 21st-century resume, but the franchise has never gone through a stretch like the one it has submitted over the past three years. Prior to 2020, there was only one instance of Carolina finishing consecutive seasons with double-digit losses (2010-11). Entering Matt Rhule's third year, the current streak is three. The Panthers' three straight five-win campaigns has made Rhule's seat hot and made David Tepper's authorization of a seven-year, $60MM contract look shortsighted.
Rhule's handling of the quarterback position has led his regime to the brink, but the team took another swing — albeit belatedly — this offseason. While this could lead the best quarterback to Carolina since a pre-injuries Cam Newton, it also may not be enough to stave off a Tepper urge to cut his losses.
Trades:
Carolina aimed to bring in a quarterback with a greater pedigree. The team submitted what might have been the second-best offer for Matthew Stafford last year, and GM Scott Fitterer inquired about a reunion with Russell Wilson, whom he helped draft during a 20-year Seattle stay. Deshaun Watson obviously loomed as a big fish for the Panthers, who pursued the embattled quarterback for two offseasons. The team passed on taking QBs with back-to-back top-10 picks, selecting Jaycee Horn over Justin Fields and Mac Jones and choosing Ikem Ekwonu over ex-Rhule Temple recruit Kenny Pickett. This journey led to the Panthers completing a second offseason program with Sam Darnold — the QB the team settled on via a three-pick trade haul in 2021 — in the pilot seat.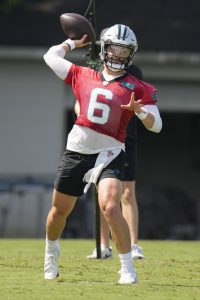 Darnold's disastrous Carolina debut led the team to Mayfield, after a Tepper-fueled three-month odyssey that had Carolina and Cleveland — who spent most of the offseason at Nos. 1 and 2 in cap space — haggling over a few million of the former Browns starter's salary. While the Panthers made out well in this deal — the low pick and being responsible for just $4.86MM of Mayfield's $15MM-plus salary — Tepper's insistence not to overpay led Mayfield to remain in Browns exile into July. Rhule and Fitterer wanted Mayfield at the Panthers' minicamp. Instead, the four-year Cleveland QB1 had barely two weeks to digest new OC Ben McAdoo's offense ahead of training camp.
But Mayfield, his brutal 2019 and '21 seasons notwithstanding, represents a clear upgrade for the Panthers. His Offensive Rookie of the Year second-place finish and his bounce-back 2020 season under Kevin Stefanski, snapping the NFL's longest active playoff drought, reflects well on his abilities — at least compared to Darnold.
Mayfield, 27, also had mostly better offensive lines compared to the passer drafted two spots after him, but Darnold maxed out at 26th in QBR (2019) and has placed 33rd in this metric in each of the past two seasons. While inconsistent, Mayfield (10th in QBR in 2020, a 26-touchdown pass, eight-interception year that had the Browns near a surprise AFC championship game bid) has reached much higher peaks and would not shock by becoming an above-average starter again. Darnold has not come particularly close to that level.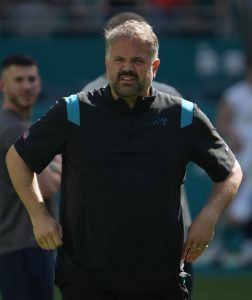 In Carolina, the polarizing passer is on track to have a chance to play behind a much better Panthers O-line than Darnold had in 2021 and work with a more well-rounded receiving corps than he had in Cleveland. Odell Beckham Jr. and Jarvis Landry represented, on paper, a strong receiver foundation. But the Mayfield-Beckham fit is part of the reason why the 2017 Heisman winner is in Charlotte. Working with D.J. Moore, Robbie Anderson and Christian McCaffrey (ideally) could provide Mayfield gateways to either an intriguing free agency bid or a long-term Panthers contract. The apparent upgrade aside, Mayfield injects a high degree of variance into a make-or-break season for Rhule, whose two prior QB swings (Darnold and Teddy Bridgewater) missed.
The Panthers will wait to determine Mayfield's extension viability, but with the team likely to have a fourth Week 1 QB in four years, it would be wise — if a healthy Mayfield re-establishes himself — for Carolina to attempt to keep its trade acquisition off the 2023 market. The Panthers have a history of a buy-low quarterback breaking through in Year 1, with Jake Delhomme guiding the 2003 team to Super Bowl XXXVIII and signing two extensions. Although Carolina does not look particularly close to a Super Bowl contender, this season could be one of the more interesting QB slates — as Mayfield could veer back toward a franchise-QB contract or skid into stopgap-starter purgatory — in recent memory.
Anything from 2023 franchise-tag value to QB2 money could await the ex-Progressive pitchman come March. Mayfield's 2022 performance will likely determine this scuffling franchise's trajectory.
Free agency additions:
Darnold, Newton and P.J. Walker faced steady pressure last season. Pro Football Focus rated Carolina's offensive line 31st. Panthers QBs were sacked 52 times — fifth-most in the league. The team responded by adding three starter-caliber O-linemen, including two veterans during free agency's first week.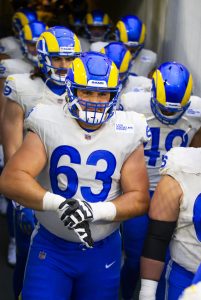 Corbett, a Mayfield teammate for a season and change, did not find his form until relocating from Cleveland to Los Angeles. The Rams plugged in the 2018 second-round pick at both left and right guard during his 2 1/2-season L.A. run. After the Browns did not feel Corbett was ready (one start in 1 1/2 seasons), the Rams used him as a full-timer almost throughout his tenure. Corbett started every game over the past two seasons, filling in as a much-needed rookie-contract starter for the NFL's premier star-chasing team. PFF graded Corbett as a top-25 guard in each of the past two years, but the Rams' penchant for splashy extensions forces them to let role players walk annually. The Panthers will benefit and have Corbett tied to a deal barely inside the guard top five through 2024.
Surprisingly, Bozeman was available for much cheaper. PFF's No. 11 center last season, Bozeman was unable to follow the Ryan Jensen path. The Ravens' latest contract-year center success story will need to prove himself again. This deal is a bargain for the Panthers, who now have Bozeman in a battle with Pat Elflein, who signed a three-year, $13.5MM deal in 2021. Brought in as a guard alongside Matt Paradis, Elflein played both interior spots last season. The loser of this competition will represent a valuable swing player. Though, if Elflein loses, the Panthers will have some slightly expensive backup O-linemen in Elflein and Cameron Erving ($4.1MM 2022 base salary).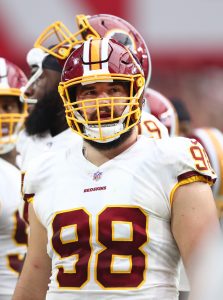 Carolina has more options up front this year. Ioannidis will move from a Washington team that had so many options it reduced its former sack leader's workload. Ioannidis being a Temple alum naturally led him to Rhule, an ex-Temple HC-turned-hoarder of mid-2010s Owls. Rhule's insistence on adding his old college players aside, Ioannidis totaled 16 sacks and 27 QB hits from 2018-19 — before Washington's Montez Sweat–Chase Young duo formed — and earned an extension. Washington's current regime bailed on that deal, and he suffered a bicep tear early in 2020. Minimized behind Daron Payne and Jonathan Allen in Washington last season, Ioannidis should have a clearer role alongside Derrick Brown.
Foreman found footing as Derrick Henry's primary replacement last season, accumulating 133 carries after totaling just 29 from 2018-20. The former third-round pick averaged 4.3 yards per carry. If the Panthers are to keep McCaffrey relatively healthy, Foreman needs to be a backfield regular. The team has not used its backups enough when McCaffrey has been available, but after the rampant 2020s injury trouble, the one-time All-Pro has hit a crossroads season. The Panthers listened on CMC trade calls this offseason, though moving his still-market-topping $16MM-per-year contract would have been difficult after the past two seasons. McCaffrey, 26, has missed 22 games since 2020.
Woods confirmed the Panthers were his top offer, leading the ex-Cowboys and Vikings safety to Charlotte. He will join Jeremy Chinn to form an intriguing back-line tandem. Despite being a former sixth-round pick, Woods, 27, has been a starter since 2018. Littleton did not work out with the Raiders, but he was viewed as one of the NFL's best coverage linebackers during his final two Rams seasons. Hekker is one of just two four-time All-Pro punters in NFL history, joining Shane Lechler (six). The third of the ex-Rams to join the Panthers this offseason, Hekker submitted his worst yards-per-punt figure (44.2) last season. But the All-Decade-teamer is just 32. He will be the team's fourth punter in four years.
Re-signed:
A groin injury ending Jackson's season in November did not appear to damage his market much. The former second-round pick was a Panthers priority and attracted interest from the Jets, who instead signed ex-Robert Saleh charge D.J. Reed. Jackson still did well for himself and enters the season as the Panthers' highest-paid defensive back. At 26 and having bounced back from early-career struggles, Jackson will be a building-block player as the Panthers determine the ceilings of former top-10 picks Jaycee Horn and C.J. Henderson.
Are Haynes and, to an extent, Luvu the Panthers' plan to replace Haason Reddick? The team has 2020 second-rounder Yetur Gross-Matos (six career sacks, 10 QB hits) as well, but rumors have connected veteran defensive ends to the Panthers. Visitor Carlos Dunlap signed with the Chiefs. Jason Pierre-Paul and Trey Flowers remain available, but teams have gradually scooped up the veteran edge rushers — from Dunlap to Justin Houston to Jadeveon Clowney to Melvin Ingram — post-draft. Among traditional linebackers, PFF rated Luvu as last year's second-best pass rusher. After a 1.5-sack, five-QB-hit season, Luvu would seem to work best as a No. 3- or No. 4-type rusher. Will a trade be considered here?
Notable losses:
Reddick represented one of the main reasons Phil Snow's defense ranked fourth against the pass. A bust as a (miscast) off-ball linebacker, Reddick showed in Carolina his contract-year Arizona breakthrough as an edge rusher — his primary role under Rhule at Temple — was no fluke. The Eagles landed the former first-rounder for three years and $45MM.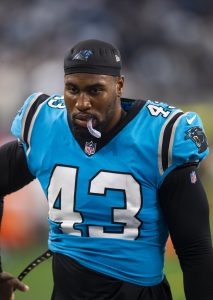 The Panthers may be determining they do not want two notable edge contracts on their books. Brian Burns appears set to command north of $20MM annually, and the Panthers, understandably, have begun prepping for a second Burns contract. With Burns' fifth-year option tying him down through 2023, the team doing that deal next year would be in line with other teams' edge rusher extensions. Reddick's presence undoubtedly helped Burns, however; the 27-year-old defender led the team with 11 sacks.
Carolina effectively prioritized Jackson over Gilmore. While the latter has a far more decorated resume and likely will when it is all said and done for both, Jackson, 26, is five years younger. Gilmore, whom the Panthers acquired for merely a 2023 sixth-rounder, bounced back after an injury-marred year. A Pro Bowl invitee as an alternate, Gilmore saw his completion percentage as the closest defender spike from 57% in his Patriots finale to 68% last season. While his passer rating-allowed number did not balloon much from 2020, the Panthers let the Colts pay him. The one-time Fitterer neighbor is now tied to a two-year, $20MM contract.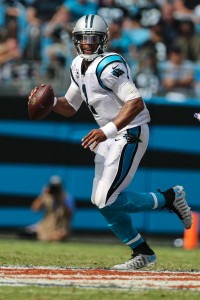 The Mayfield trade presumably closes the book on Newton in Carolina. He went 0-5 as a starter, completed less than 55% of his passes and was benched during his comeback year. Although Newton did not meet any of the incentives on his contract, the former No. 1 overall pick still collected $4.5MM for eight games of work.
Newton, 33, remains the best quarterback in Panthers history. The back half of his career, absent a mid-30s turnaround, will likely keep the 2015 MVP out of the Hall of Fame. He ranked 30th in QBR from 2016-19, with injuries helping drive that mark to those depths in the years that followed his historically dominant 2015. Newton's relatively short career — for a player with his profile — serves as a warning sign for teams that employ run-oriented quarterbacks.
From Newton's 2011 arrival until his 2018 shoulder setback, the Panthers did not have to worry about the quarterback position. They gave Newton a five-year, $103.8MM extension in June 2015 and observed his 45-touchdown (35 passing, 10 rushing) season lead the franchise to its second Super Bowl. Newton never came close to producing that kind of season again, but the Panthers dropping him in March 2020 led to a string of QB acquisitions. Should Mayfield beat out Darnold, the 2022 season will feature a different primary Carolina QB starter for a fifth straight year.
Extensions and restructures:
Considering what the Panthers have been through at quarterback during Moore's career, the former first-round pick's resume looks odd. But, over the past three seasons, his receiving totals go like this: 1,175, 1,193, 1,57. Getting there with what turned into a league-worst quarterback situation last season is probably the most impressive of those numbers, and it led to Moore being early in an offseason trend.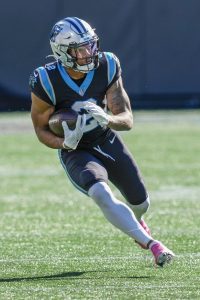 Shortly after Mike Williams inked his three-year, $60MM Chargers extension, the Panthers went a bit higher for Moore. The Maryland alum also secured $42MM guaranteed at signing — a figure north of each 2019 receiver extension recipient save for A.J. Brown. While Moore was drafted a year earlier, a case can be made he should be tied to a more lucrative deal compared to some of the oft-discussed 2019 draftees. Moore is still just 25, younger than Terry McLaurin and Deebo Samuel, and has, like McLaurin, put up nice numbers with subaverage QB situations. Although Moore has not been productive as a red zone threat (14 career touchdowns), he has been the clear No. 1 in Carolina since being drafted.
While $20MM-plus per year does not look like buying low, the Panthers did well to land Moore at the price they did. Moore agreed to his deal hours after Davante Adams' $28MM-per-year Raiders pact opened the receiver market's floodgates; the Panthers deserve credit for hammering out a reasonable accord in a quickly shifting landscape. Moore and Anderson, who now sports an extra letter in his name, will work together for a third straight season. The Patriots discussed the ex-Jets wideout with the Panthers, but they moved to DeVante Parker. Moore and Anderson each topped 1,000 yards in 2020 with Bridgewater; the Newton- and Darnold-fronted offense could not facilitate such production.
Draft:
Fitterer offered a surprisingly transparent outline of the Panthers' pre-draft process, indicating a tackle-or-quarterback decision — one that would feature higher-rated tackles than QBs — would be on tap. When the Giants took Kayvon Thibodeaux, it left the Panthers with their pick of this draft's tackles. Ekwonu is a North Carolina native whom the team will count on to stop its revolving door at the premium left tackle spot.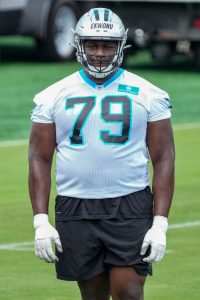 On the same timeline as the Broncos' search for a right tackle, the Panthers have also seen one of their tackle spots have eight different Week 1 starters from 2013-21. Jordan Gross' 2014 retirement ended a stable run for the franchise at the position. Michael Oher's overlap to start the 2015 and '16 seasons represents the only semblance of post-Gross continuity the Panthers have enjoyed here, and Oher playing just three 2016 games has given the Panthers a different primary right tackle in nine straight seasons. Erving came in to start last season but is not on the radar to start there for the team again.
A first-team All-American during his final season with the Wolfpack, Ekwonu rated as ESPN.com's No. 3 overall prospect. The Panthers have not immediately slotted the home-state talent in their lineup, with Rhule giving 2021 third-rounder Brady Christensen steady praise. Christensen has taken more reps as the first-string left tackle at camp. Ekwonu beginning his career on the bench would be a strange development, especially considering the Panthers' near-decade-long need at this position.
Known more for his run-blocking at NC State, Ekwonu could transition to guard. He saw time at left guard in college. The Dolphins also used this NFL onramp for Laremy Tunsil in 2016, placing the first-rounder at guard during Branden Albert's third and final season as their left tackle. The more likely left-side configuration will be Ekwonu at left tackle and Christensen alongside him. Either way, these two should be upgrades based on where Carolina was entering last season.
Fitterer said he offered the Browns more in terms of compensation for Mayfield during the draft, but when those talks broke down, the Panthers traded a 2023 third-round pick to get back into this year's third round. Now that the Panthers circled back to Mayfield nine weeks later, Corral is a developmental arm. Corral averaged 10.2 yards per attempt as a junior and finished with a 20-5 TD-INT ratio as a senior. While Desmond Ridder has a clear path to extensive 2022 playing time, fellow third-rounders Corral and Malik Willis are on redshirt tracks. But, with Darnold's contract up after the season and Mayfield far from certain to be back, Corral could be a much bigger factor in the Panthers' 2023 offseason.
Other:
Of the three other teams in the Watson finalist quartet, none pursued him like the Panthers. Tepper made it known early in the 2021 offseason he was willing to trade a bounty for a franchise quarterback. Carolina's Watson interest began before the criminal and civil matters engulfed him, but the Panthers remained connected to the then-Texans QB up until the trade deadline. Watson was unwilling to waive his no-trade clause for anyone but the Dolphins at that point, but the Panthers likely offered three first-rounders for the embattled passer last year. It took that and then some for the Browns to acquire the three-time Pro Bowler.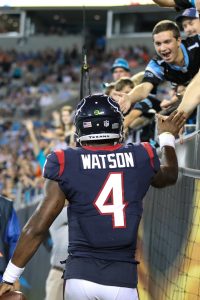 While they were back at the forefront alongside the Browns, Falcons and Saints this year, Tepper was unwilling to match the Browns' $230MM guarantee. The Falcons and Saints did not go there, either, leading Watson to Ohio. Carolina's two-offseason Watson pursuit, amid one of the biggest scandals in NFL history, becomes one of the bigger footnotes in franchise history. The end result leaves Carolina still without a long-term QB plan.
McAdoo, 45, has not been a play-caller since 2017, when the Giants fired him in-season. That decision came less than a year after McAdoo had the Giants in the playoffs in his first season at the helm. Even though New York went 6-10 in Tom Coughlin's final season (2015), McAdoo's offense ranked sixth. That led to his ultimately ill-fated promotion. McAdoo's offense dropped to 26th in Big Blue's 2016 playoff slate, however, with Odell Beckham Jr. propping up that unit. That said, OBJ has not quite been the same since his three full seasons (all three of his Pro Bowl slates) under McAdoo.
The Panthers considered Jay Gruden, Bill O'Brien, Pep Hamilton, ex-Eagles OC Mike Groh, former Vikings OC Klint Kubiak and Colts running backs coach Scottie Montgomery for the job. McAdoo, who spent 2020 with the 1-15 Jaguars and last year as a Cowboys consultant after taking two years off, will resurface as a key determinant for Rhule's future.
Top 10 cap charges for 2022:
Although the Watson pursuit deserved attention, the Mayfield move and the O-line overhaul became Carolina's signature offseason developments. This does have the feel of a boom-or-bust effort, though it is unclear if a Panthers boom season can lift them into surefire playoff position. (Then again, the NFC's No. 7 seed has not exactly featured particularly strong teams since the 2020 bracket expansion.) It will probably take a playoff bid and/or significant improvement on offense for Rhule to save his job. The Mayfield-McAdoo duo being center stage for this preservation effort will be one of the upcoming season's top subplots.