When no tackles came off the board in the top five, the Panthers pounced on the opportunity to stop their revolving door at left tackle. The team has not had the same primary left tackle starter since Jordan Gross' 2014 retirement, and Ikem Ekwonu is positioned to be the long-term answer.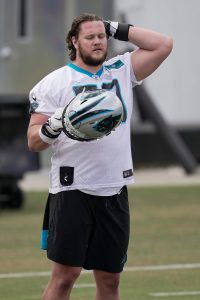 It is not certain that stretch will begin at this season's outset. Matt Rhule said Ekwonu has a "long way to go" in his preparation to be an NFL left tackle, via Joe Person of The Athletic, who adds Brady Christensen took plenty of reps (nonpadded reps, but still) during the Panthers' offseason program (subscription required).
[RELATED: Christensen A Guard Option For Panthers]
Christensen's three season-ending starts at left tackle appear to have impressed the Panthers' staff, Person adds. The 2021 third-rounder has gained more momentum this offseason. Rhule said earlier this year he should have played the 2020 first-team All-American more last season, and offensive line coach James Campen said before the draft the BYU product would factor into the left tackle competition. Rhule said Thursday that Christensen is one of the best players on Carolina's roster, via Person, who adds this should point to Christensen lining up as a first-stringer — at either left tackle or left guard — come Week 1 (Twitter link).
An offensive line featuring the team's top left tackle prospect since Gross and the evidently improving Christensen alongside him at guard would make the most sense, from a need-filling standpoint. Ekwonu would not be out of place at guard, having played there in high school and at points during his stay at North Carolina State. If Rhule and Co. deem Ekwonu — a 2021 first-team All-American — not ready, a left side featuring Christensen at tackle and Michael Jordan at guard would seem to be the play. Carolina also has versatile veteran Cameron Erving (nine 2021 starts) entering his second season with the team.
It has been a while since a top-10 tackle draftee did not start in Week 1. Greg Robinson, the Rams' No. 2 overall pick in 2014, is the most recent such investment to begin his rookie year on the bench. Training camp and the preseason will obviously be a much better gauge of Ekwonu's readiness compared to various nonpadded workouts, and the No. 6 overall choice being a starter in Week 1 should still be considered more likely than not.