Without a long-term quarterback plan since injuries began to keep Cam Newton off the field, the Panthers have attempted to land big fish at the position for a bit. But they have been unable to do so, leaving the team with a major question at the game's premier position in a rather important year for Matt Rhule.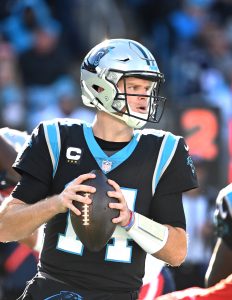 Carolina made serious efforts to trade for Matthew Stafford, offering a first-round pick and change, and Deshaun Watson, whom the team was linked to for over a year. Neither panned out, with the Rams swooping in late for a player who has since become a Super Bowl-winning QB. Although the Falcons were believed to be the second-place finishers for Watson, the Panthers also balked at the $230MM guarantee the Browns authorized. An inquiry into Russell Wilson's status went nowhere, with the longtime Seahawks QB prioritizing a Denver move.
The Panthers still have Sam Darnold, whom they acquired for three draft choices — including a second-round pick — last year. Darnold, 25, struggled through an injury-interrupted 2021 season, putting his status as Carolina's 2022 QB in doubt. But the Panthers, upon trading for the former Jets top-three pick, exercised the scuffling passer's fifth-year option. Darnold is guaranteed $18.9MM this year, and Rhule has praised his work this offseason.
The primary reason for the frequent Carolina-centric headlines this offseason, Baker Mayfield, 27, remains on the team's radar. An early report this offseason indicated neither the Panthers nor Mayfield were on-board with a trade that moved the former No. 1 overall pick to Charlotte, but the NFC South team has come around. The Panthers have been by far the team most closely connected to Mayfield, having engaged with the Browns in trade talks during the draft and resuming them recently.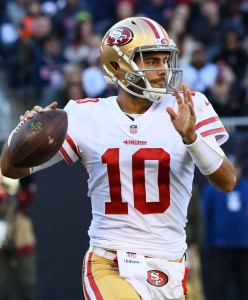 How Mayfield's fully guaranteed $18.9MM salary would be divvied up would seem a somewhat minor hiccup, at least compared to the prospect of making a QB upgrade, but that component has stalled the talks for several weeks. The Browns were believed to offering to pay barely $3MM of Mayfield's salary during the mid-draft talks, but they have since upped that figure to around $10MM. The Panthers have wanted the Browns to pay nearly $14MM of the figure. Cleveland holds the NFL's most cap space, with Carolina at No. 2. It would seemingly benefit the Panthers to make this deal soon to give Mayfield as much time as possible to learn Ben McAdoo's playbook, and the Seahawks are lurking in the event Mayfield is cut.
Jimmy Garoppolo looms as an option as well, but Carolina is not believed to be interested in trading for him. The four-plus-year 49ers starter is tied to a $26.9MM base salary — one that becomes fully guaranteed in Week 1. The Panthers would be interested if the 49ers cut him, though the 30-year-old passer is coming off a three-injury season — one culminating with a throwing-shoulder surgery that paused his trade market.
Teams can certainly hold out to see if the 49ers — who have Deebo Samuel and Nick Bosa extensions on their docket but hold little in cap space — blink on Garoppolo's salary ahead of his guarantee vesting. But the Panthers waiting that long runs the risk of Garoppolo not joining the team until just before the regular season. That would not put him in good position to succeed. Although frequently scrutinized, Garoppolo did rank 12th in QBR in 2019. That Super Bowl-qualifying campaign also marked his only healthy season in the past four.
Ranking 29th in 2021 QBR, Darnold trailed a hobbled Mayfield (27th) last season. Mayfield's best QBR season (2020, when he ranked 10th) outpaces Darnold's by a notable margin. A 25th-place finish in 2019 is Darnold's best mark, and although he has not been given a favorable draw in four seasons, the USC product teeters on the bust cliff. That said, Mayfield's 2020 is the outlier in his past three seasons, a span that included a 2019 regression and the injury-plagued 2021 that is leading him out of Cleveland.
The Panthers have outfitted Darnold with a better offensive line this year, and a healthy Christian McCaffrey would make a difference. But are Darnold (or third-rounder Matt Corral, who profiles as a longer-term project) and healthy versions of Mayfield and Garoppolo close enough in ability to venture into training camp without Carolina making a move? Vote in PFR's latest poll and weigh in with your thoughts on this situation in the comments section.