"I now get to officially end my career as a Carolina Panther and that means the world to me."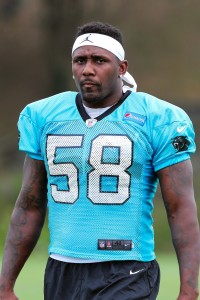 That's how Thomas Davis responded to the two-year extension he inked on this date in 2015. Of course, like most sports stories, things rarely work out as expected.
The 14th overall pick out of Georgia back in 2005, Davis was a key member of the Panthers defense for more than a decade. While the linebacker was limited to only seven games between the 2009 and 2011 seasons, he otherwise missed only nine contests in his 11 healthy seasons with the organization. By the time 2015 came around, Davis had already racked up nearly 750 tackles to go along with 17.5 sacks, six interceptions, and 13 forced fumbles.
He was a Panthers icon, and with only one year remaining on his contract, he was eager to ink one last deal with the only organization he had ever played for. So, on June 15, 2015, the two sides agreed to a two-year extension that would last through the 2017 campaign. In total, the player earned about $6MM per year on the new deal, which was a modest amount for a linebacker eyeing the end of his career.
In an unpredictable twist, Davis was about to go on the best three-year stretch of his career. During his age-32 campaign in 2015, the veteran earned his first-career All Pro nod and Pro Bowl appearance, and he was wildly productive in three postseason contests. He'd earn Pro Bowl spots in 2016 and 2017, as well. Prior to that 2017 season, Davis inked one more extension, this time for one year. Heading into that 2018 campaign, the linebacker made it clear that it would be his last season.
After sitting out the first four games for violating the league's policy on performance-enhancing drugs, he ended up starting all 12 of his appearances in 2018, finishing with 79 tackles. That 2018 season ended up being a disappointment for the Panthers; after having made the postseason in four of the previous five seasons, Carolina failed to crack the playoffs after going 7-9. This disappointment apparently influenced Davis to give it another go, but the Panthers weren't interested in a reunion, with Davis telling reporters that the organization wanted "to go in a different direction" at the position.
"I wanted to be back," Davis said (via NFL.com). "I wanted to be part of a group that came and just [righted] the wrongs that we had this season. As one of the leaders of this team, I took full responsibility for some of the things that we allowed to happen and the games that we lost consecutively. I wanted to come back and wanted to help fix that. Unfortunately I'm not going to have that opportunity."
Davis ended up catching on with the Chargers for the 2019 campaign, collecting 112 tackles in 16 starts. After getting into seven games with Washington in 2020, the linebacker decided to hang up his cleats.
While Davis thought he was going to end his career with the Panthers following that 2017 campaign, a late-career breakout changed some things. Fortunately for the player, he still got his wish to retire with the Panthers when he inked a one-year contract with the team in March, 2021.